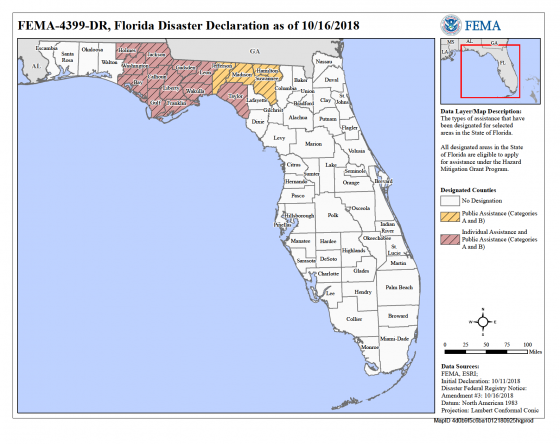 With experts estimating weeks-at-least before normalcy can return to Florida's Panhandle coast, Hurricane Michael—a category 4 storm which destroyed thousands of houses in Florida and Georgia—has so far caused at least 29 deaths and numerous injuries in four states. Upon its touchdown on Oct. 10, Michael became one of the strongest ever to hit the U.S. mainland with wind speeds of up to 155 miles per hour. Reports indicate that dozens of people are still missing in the U.S. and up to 35 people remain unaccounted for in hard-hit Mexico Beach.
Boston-based Karen Clark & Company, a risk-modeling firm, estimated that Hurricane Michael caused about $8 billion in insured losses. It includes the privately insured wind and storm surge damage to residential, commercial and industrial properties and automobiles. The figure excludes losses covered by the National Flood Insurance Program.
Brian Wooley, vice president of operations for Interstate Restoration, a Texas-based emergency response and general restoration contractor, said the damage outcomes appear similar to major storms that occurred over the last two hurricane seasons.
"With Michael, we have seen far more wind-related damage as opposed to the kind of flooding damage that we saw with Hurricane Florence last month and Hurricane Harvey last year," Wooley said. "Numerous businesses were completely wiped out and some were left only with standing walls, but no roofs; leaving all of their contents and structures exposed to the environment…they will have to completely rebuild and restock. As devastating as Hurricane Katrina was, Michael caused more widescale wind-related damage. And even with forceful Hurricane Irma, it didn't destroy entire communities like Michael was able to do."
More than 158,000 power customers didn't have electricity yesterday, demonstrating that progress is being made, as 237,000 were reported Monday without power in the southeast as a result. This is a problem exacerbated by the stifling heat, with the hardest-hit areas receiving air-dropped food and water to survive.  The State of Florida said 3 million ready-to-eat meals, 2 million gallons of water and 2 million pounds of ice are being distributed in storm-impacted areas.
Wooley said that many businesses have proven resilient but others are recovering "in a limping manner."
"Other projects will take months, and still others might take as long as a year-and-a-half depending on the severity of damage, insurance process complexities," he said.
Environmental Risks
Another risk that residents and businesses in Florida and Mexico will have to contend with is that of grey water, which contains significant chemical, biological, or physical elements.
"[Grey water] may quickly become hazardous to human exposure as microbes and other contaminants begin to grow to dangerous levels when water has been standing in excess of 48 to 72 hours," Wooley said. "These types of contaminants typically require a special remediation process and careful handling to safeguard against serious health dangers. This issue of harmful algae is an example of why people should be sure to hire a trusted restoration company with extensive experience dealing with these types of storm situations."
Emergency Orders and Policyholder Protections
On Oct. 14, Florida Gov. Rick Scott directed Florida's insurance commissioner to take every action authorized pursuant to Executive Order 18-276 to provide additional protections to support recovery efforts in the areas of the state impacted by Hurricane Michael. Gov. Scott and other state legislators made it clear that the expectation for Florida's insurance companies is to expeditiously respond to policyholders' needs and to treat families fairly. The quick response of insurance companies is critical to the recovery of Florida families following Hurricane Michael.
Gov. Scott said: "Hurricane Michael absolutely devastated Florida's northern Gulf Coast and Panhandle and the recovery of every family impacted by this storm is our top priority. Today… we are mobilizing even more resources and staff to provide additional protections for consumers. Our state will never tolerate anyone taking advantage of the families recovering from this storm."
Gov. Scott directed additional protections for Florida policyholders in the impacted area:
Provide an additional 90 days to policyholders to supply required information to their insurance company. Many Floridians were displaced during this dangerous storm, and providing additional time to submit information to insurance companies gives them needed flexibility.
Require all non-renewals or cancellations issued to policyholders in the days leading up to Hurricane Michael be rescinded for 90 days. This gives policyholders 90 days to either renew their insurance policy, or find a new policy; and
Freeze any and all efforts to increase rates on policyholders for 90 days. Due to the devastating effects of Hurricane Michael, Floridians should be focused on getting back to their normal lives without their insurance premiums being increased.
During the weekend before landfall, Gov. Scott declared a state of emergency for several counties from the Gulf Coast to Navarre on the Panhandle to the Suwanee River.