Buyers of commercial insurance, who have seen relatively stable to slightly increasing rates over the past three years, reported paying 1% less to cover their total cost of risk than in 2013, according to the 2015 RIMS Benchmark Survey.
"The 2014 survey results reflect the overall stability of the U.S. property/casualty market. One notable driver is the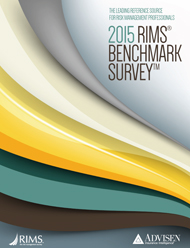 increasing role of alternative capital in assisting reinsurers to deal with economic uncertainties. A related factor is the rising importance of predictive models among insurers, not only in the area of property, but also for cyber and casualty," Jim Blinn, executive vice president and global product manager at Advisen, said in a statement.
Looking ahead to the second half of 2015, Blinn said commercial property/casualty insurers are beginning to see a softening market. "We are looking at a period of rate decreases in insurance premiums owing to rising competition in the market and more than enough available capacity."
The survey, which encompasses industry data for more than 52,000 insurance programs from over 1,400 organizations, found that risk managers and underwriters have identified climate change as one of this decade's defining issues. "It continues to be a cause of concern among companies and organizations as evidence linking it to flood and other natural disasters continue to mount. Already, regulators such as the U.S. Environmental Protection Agency (EPA) are sounding the alarm for the high economic cost of climate change," according to the study.
Key findings in 2015 include:
Slight decrease in TCOR following three years of increases.
Average TCOR fell 1% from $10.90 per $1,000 of revenue in 2013 to $10.80 in 2014.
Management liability, workers compensation, liability, and property costs declined.
Risk management administration costs dropped 5% as costs for both outside services and risk management departments declined.
{ 0 comments }