Hurricane Joaquin is threatening to hammer the East Coast this weekend. Joaquin reached Category 3 status late Wednesday and is expected to strengthen to a Category 4 on Thursday. Even if the storm veers from the East Coast, it is still expected to bring strong winds, pounding surf, heavy rain and flash flooding.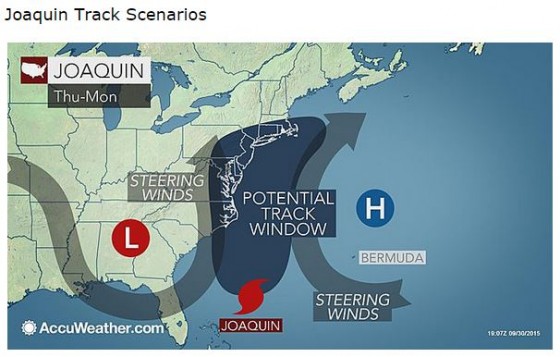 While it may be late to start contingency planning, there is still plenty that can be done to minimize damage to property. For example, rooftops can be checked and needed repairs made, and fuel tanks and generators can be readied.
Zurich offers these tips for protecting commercial property. They are broken down into "easy actions" 48 hours from landfall and "tough actions"  36 hours from landfall.

Easy actions – 48 hours from landfall
About two days before a hurricane is expected to affect your location, begin implementing the easy actions. Easy actions include:
Review the hurricane emergency action plan with all involved personnel
Check building roofs. Make repairs to coverings and flashing as time allows
Remove all loose items from the roof, secure equipment doors and covers, and remove debris
Verify roof drains are clear of trash and other obstructions
Fill fuel tanks serving emergency generators and other vital services
Verify dewatering pumps are in service and working.
Verify outside storm drains and catch basins are clean
Remove debris from outdoor areas that may become "missiles"
Remove loose, outdoor, inactive equipment
Back up computer data
For healthcare, verify 96 hours of supplies are on hand
For manufacturing:

Ship out as much stock as possible
Verify all stock is skidded at least 4 inches above the floor
For new construction projects:

Remove loose equipment
Secure and protect material storage
Temporarily brace new construction
Secure roofing and items on the roof
For heavy industry (chemical and petrochemical):

Inventory tanks and vessels with enough material to secure them against the forces of buoyancy should they be exposed to flooding, surface water runoff or storm surge.
Maintain contact with suppliers of pipeline delivered materials. Those suppliers may also be making shutdown preparations.
Verify you will have the necessary supplies to safely shut down your process. This is especially important for processes such as olefins units, which take several days to bring down. Natural gas and oxygen are just two pipeline supplied materials to consider.
Verify compressed air supplies needed for control purposes.
Remove any accumulated rain water from storage tank spill containment areas.
Allow time for Emergency Response Team members who will remain on site to go home and take care of their personal needs. Based upon your specific needs, add to the list of easy actions, as these are just general concepts and every facility has its own requirements.
Tough actions – 36 hours from landfall
At 36 hours before anticipated landfall, time will be limited. Make sure you will have the staff needed to complete all of the tough actions, and leave plenty of time to evacuate personnel who will not be remaining on site (reference jurisdiction and/or authority's announcements and requirements). The tough actions may include:
Protecting or relocating vital business records
Removing all loose outdoor storage or equipment
Anchoring portable buildings or trailers to the ground
Securing outdoor storage or equipment that cannot be moved
Installing manual protection systems (such as shutters, plywood covers and flood gates)
Raising critical equipment off floors (such as PC towers)
Moving critical equipment from basement and other below-ground areas
Covering critical stock and equipment with waterproof tarpaulins
Initiating an orderly shutdown of production equipment and systems that rely upon normal power
Turning off fuel gas services
Turning off non-essential electrical systems
Verifying all fire protection systems are in service (such as water supplies, fire pumps, sprinklers, fire alarms and special extinguishing systems)
For manufacturing:

Stopping incoming shipments of raw materials that will be exposed to damage
For heavy industry (chemical and petrochemical):

Removing and securing cable tray covers and controlling wiring radiant barriers. These are features that frequently become wind-borne debris when exposed to high winds.
Removing or securing scaffolding
Add to the list based upon your specific needs.
Tough-tough actions
There can be a few tough actions that take so long to complete they need to be started during the easy action period. Exceptional discipline will be required to make the decision to implement these very tough actions. These actions may include:
Setting up flood barriers at all first floor doors and entrances
Temporarily closing up buildings under construction to avoid entry of wind-driven rain
Installing manual shutters on multi-story buildings
For manufacturing, shutting down processes that will be exposed to damage
For heavy industry (chemical and petrochemical), shutting down processes that take several days to bring to a safe shutdown (such as olefins units)
It is absolutely essential to recognize when you have a tough-tough action. The overall plan must recognize their existence. And, the needed guidance and authority must be provided to those who will be charged with making the decision.