Barack Obama has declared a major disaster in American Samoa after a tsunami, triggered by a 8.3 magnitude earthquake, struck the area. News reports claim more than 100 people have been killed, including 77 people in Samoa, more than 25 in American Samoa and at least six in Tonga. The death toll is likely to rise as several more are missing. American Samoa Governor Togiola Tulafono has said the first wave struck too quickly for a full evacuation. Others were killed by the second deadly wave.
Officials at the Samoa Meteorology Division said many of those who died were killed by a second wave after they went to gather fish that had been washed up after the first. Sirens reportedly blared out across the Samoan capital, Apia, again late on Tuesday but the warning was thought to be a false alarm.
The area has seen its share of tsunami destruction, especially since the earthquake and tsunami of 2004, which killed more than 225,000 around the Indian Ocean. Following this tragic event, the Indian Ocean Tsunami Warning System was launched. However, Jonathan Bathgate, a seismologist from Geoscience Australia thinks that Samoa's system is probably outdated.
"Yes, the region was better prepared as a whole. But Samoa falls under the jurisdiction of the Pacific Ocean Tsunami Warning System," says Jonathan Bathgate, a seismologist from government agency Geoscience Australia. "They are a 50-year-old organization, and their system hasn't changed much in recent years."
Some Samoans are criticizing the effectiveness of the warning system, claiming it failed them and their loved ones.
To view locations of natural disasters worldwide, check out  this world map that is updated in real time.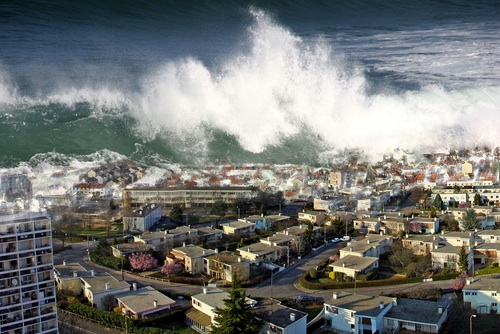 This image simulates a tsunami washing over a coastal village.