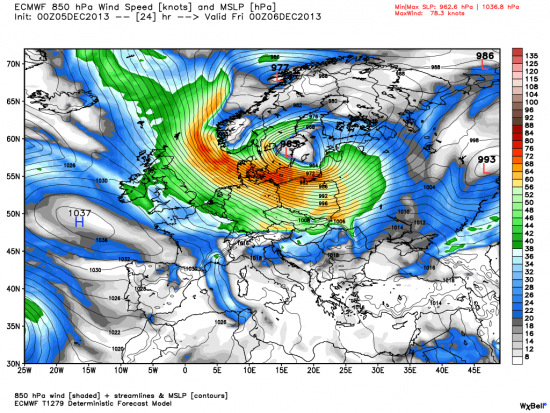 Windstorm Xaver: Model shows a large area of high winds in the lower atmosphere pushing waters of the North Sea into the coasts around western Europe. Courtesy WeatherBELL Analytics.
Natural catastrophes and man-made disasters worldwide reached $44 billion in insured losses in 2013—down from $81 billion in 2012, according to a Sigma preliminary report by Swiss Re.
The study found that total economic losses from disasters in 2013 totaled $130 billion and 25,000 lives were lost. Hurricane Haiyan alone, which hit the Philippines in November with record-breaking winds, claimed more than 7,000 lives. In 2012 total economic losses were $196 billion and 14,000 lives were lost.
Flooding in central and Eastern Europe in June 2013 created overall losses of $18 billion, with insured losses estimated at $4 billion, according to the report.
In the United States, severe spring and autumn weather spawned thunderstorms and deadly tornadoes. While this caused devastation of personal and commercial properties and heavy losses to the insurance industry, the 2013 North Atlantic hurricane season proved to be benign, the report found.
Alberta, Canada in June experienced flooding caused by heavy rains. Insured losses were about $2 billion—the highest ever recorded in the country for any disaster.
The most costly insured catastrophe losses in 2013
Date
Insured losses
(US $B)
Economic losses
(US $B)
Event
Country
1
June
4.1
18.0
Floods
Germany, Czech Republic
2
July
3.4
3.8
Hailstorm Andreas
Germany, France
3
June
1.9
4.8
Floods
Canada
4
May
1.8
3.2
Severe thunderstorms, tornadoes
US
5
March
1.6
2.2
Thunderstorms, tornadoes, hail
US
6
May
1.4
2.0
Severe thunderstorms, tornadoes, large hail
US
7
October
1.4
2.7
Windstorm Christian
Germany, Denmark
8
April
1.1
1.6
Snow storm, ice, tornadoes, heavy rains
US
9
December
1.0
1.4
Windstorm Xaver
UK, Denmark
10
January
1.0
1.5
Floods caused by Cyclone Oswald
Australia
Swiss Re Sigma preliminary estimates
Similar Posts: