According to the Economist Intelligence Unit, a Donald Trump presidency poses one of the greatest current global risks. Indeed, Trump ranks as the sixth overall potential risk to the global economy, and based on a 25-point scale, the research firm rated the risk approximately equal to the rising threat of jihadi terrorism destabilizing the global economy.
The EIU, research and analysis sister company to the Economist, ranks risks based on both impact and probability, with a Trump presidency presenting considerable potential impact, but moderate probability. The EIU's assessment focused in particular on Trump's hostility toward free trade (most notably NAFTA), aggressive rhetoric on China, and "exceptionally right-wing stance" on the Middle East and jihadi terrorism.
"In the event of a Trump victory, his hostile attitude to free trade, and alienation of Mexico and China in particular, could escalate rapidly into a trade war—and at the least scupper the Trans-Pacific Partnership between the US and 11 other American and Asian states signed in February 2016," EIU analysts wrote. "His militaristic tendencies towards the Middle East (and ban on all Muslim travel to the U.S.) would be a potent recruitment tool for jihadi groups, increasing their threat both within the region and beyond."
The firm concluded with a prediction that, while it believes Trump will most likely lose to Democratic nominee Hillary Clinton, that probability could change in the event of a terrorist attack on U.S. soil or a sudden economic downturn.
In such a scenario, the trickle-down effect within the American political machine poses noteworthy risk as well. "Innate hostility within the Republican hierarchy towards Mr. Trump, combined with the inevitable virulent Democratic opposition, will see many of his more radical policies blocked in Congress," the report says. But "such internal bickering will also undermine the coherence of domestic and foreign policymaking."
The firm's overall top 10 risks by point ranking are: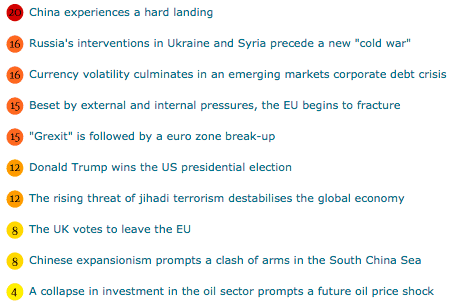 Similar Posts: