About
The Risk Management Monitor is the official blog of Risk Management magazine and provides daily stories, commentary, interviews, podcasts and videos related to the world of risk management and insurance. The editors of the Risk Management Monitor are Jared Wade, Emily Holbrook and Morgan O'Rourke.
Jared Wade is senior editor of Risk Management magazine and first came to the publication in 2002 as a college intern from St. John's University. Since graduating with a degree in journalism, Jared has moved to Astoria, Queens, and is currently pursuing a master's degree in international relations at the City College of New York (CUNY) in hopes of writing more about global affairs. In his other lives, Jared has also blogged about basketball, written reports on nuclear disarmament and reported for the New York Daily News.
Emily Holbrook is editor of Risk Management magazine and lead blogger for the Monitor. Originally hailing from New Jersey, Emily has spent much of the past decade in Florida where, among other things, she graduated from the University of Central Florida with concentrations in finance and English. She now lives in Brooklyn where she enjoys stroller-counting.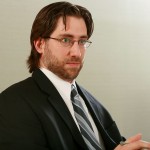 Morgan O'Rourke is editor in chief of Risk Management magazine and the director of publications for the Risk & Insurance Management Society (RIMS). Morgan graduated from Cornell University in Ithaca, New York, with a degree in communications and lives on Long Island, where he was born and raised. In his spare time, he enjoys his larger-than-necessary music collection and having his heart broken every September by the New York Mets.