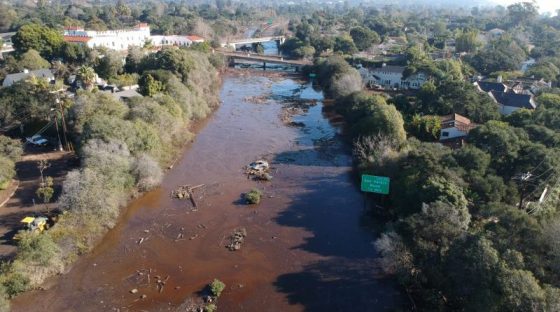 Last week, Santa Barbara, California suffered 20 casualties, countless injuries and millions of dollars in property damage due to the unprecedented mudslides that tore through the city of Montecito. Search and rescue efforts continue in the aftermath of the phenomenon, which was caused by the heavy rains washing away ground laid bare by the Thomas Fire in December 2017. The resulting millions of pounds of debris left behind present biological and environmental risks to the area. Returning residents have been warned to protect against potentially hazardous chemicals and untreated sewage that were swept along with the mudslide debris. Meanwhile, where all this mud and debris will be moved to presents another dilemma.
Public Health Advisory
On Jan. 17, Santa Barbara County's Public Health Department issued a public health advisory to warn about potential health conditions residents and workers may face as they return to their homes and businesses. The advisory states that "unknown amounts of potentially hazardous chemicals and untreated sewage were swept into the mudslide debris that flowed through impacted areas," and provided tips for those affected to protect their health amid cleanup and recovery.
The advisory warned that residents also are at risk of wound infections, rashes, illnesses borne from raw sewage mixing into the debris and immersion foot syndrome (also known as "trench foot"), among other injuries.
Although it was encouraged to leave cleanups to professionals, the Health Department recommended Tetanus shots for those engaged in cleanup activities who have not been vaccinated during the past 10 years. It also acknowledged that while the hepatitis A virus could theoretically be spread via exposure to feces or raw sewage, it had not received any reports of that scenario and maintained the probability is low.
Removal Efforts
Temporary solutions for moving and storing the debris are reportedly in place. According to the Los Angeles Times, dump trucks "discarded at least 3,500 tons—or about 7 million pounds—of muck at the Ventura County Fairgrounds, where it will be stored temporarily until crews can sort through it."
The Times continued:
Up to 1,000 tons more—per day—could eventually make it down to the Calabasas Landfill. To help with cleanup efforts, the Los Angeles County Board of Supervisors on Tuesday passed a temporary waiver to allow the intake through mid-April.

Santa Paula Materials, which sells rocks and recycled construction debris, will collect the rocks that are hauled out, while Standard Industries, a building material manufacturer, will take the metal and tires, said Lance Klug, spokesman for the California Department of Resources Recycling and Recovery's Office of Emergency Services.
Wildfire Cleanup Ongoing
The mudslide debris removal compounds the already daunting task of clearing Thomas wildfire debris in other areas. On Jan. 12, the California Governor's Office of Emergency Services (Cal OES) announced that its cleanup program had moved nearly 1 million tons from the burn scarred areas and had completed work in Yuba, Butte, Nevada and Lake Counties, but "still had much work to be done." The Environmental Chemical Corporation will continue the massive undertaking of debris clean-up in Sonoma, Napa and Mendocino Counties that were hard-hit during the October 2017 wildfire siege.
The Better Business Bureau issued guidelines for removing both wildfire and mud debris, classifying it into four main categories and recommending disposal in the following ways:
Branches, trees and vegetative wastes​ can be separated from the other debris and later can be sent to the community burn pile. These wastes can also be sent to a permitted disposal site.
Construction debris​. The structural materials from houses and buildings—such as concrete, boards, shingles, windows, siding and pipes—can be taken to the closest construction and demolition landfill or a permitted municipal solid waste landfill.
Other household wastes, ​such as trash and furniture, should be sent to a permitted municipal landfill.
Hazardous wastes​. If you believe the waste contains regulated hazardous materials, more care and caution is needed. These wastes should be containerized, labeled, and ultimately sent to a facility that is permitted to store, treat or dispose of hazardous wastes. In these instances, it is important to contact the department to discuss proper disposal procedures.
The guidelines also provide a full list of items that require special disposal, including pool chemicals, tires and commercial and medical waste.