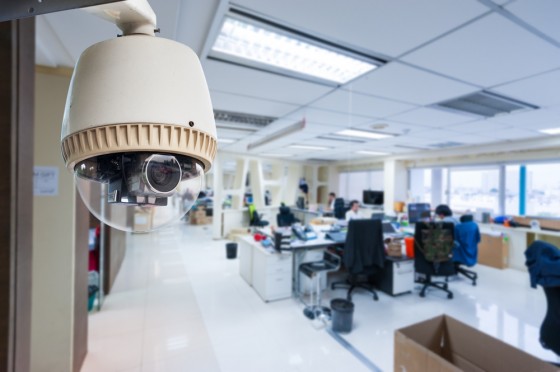 There are plenty of compelling reasons to install a surveillance system in your office, but there are also a number of reasons not to. Cameras are becoming more and more common in our daily lives, and choosing whether or not to embrace them in your own workplace can be a challenging decision.
There are advantages and disadvantages to consider before installing cameras and phone/Internet monitoring. Here are a few of them:
Pro: Cameras prevent theft
There is no denying that a camera monitoring system is going to drastically reduce incidents of employee theft. Studies have shown time and time again that areas that are clearly monitored by camera systems have significantly less crime than places that suggest anonymity. If you have a problem with items going missing around the office, installing cameras can be a way of showing that you are aware of the problem without directly confronting a potentially innocent employee. Cameras are a highly effective deterrent that can quickly nip a theft problem in the bud.
Con: Cameras may offer a false sense of security
If you have a particularly devious employee, cameras may actually work against you. If an employee really wants to steal from the office, he or she will probably find a way to do so regardless of the cameras. You may feel like you do not need to do anything else once cameras are installed, which can cause you to let your guard down. For this reason, cameras should be used as an addition to your current loss prevention plan, rather than being used as the primary deterrent.
Pro: Cameras provide evidence
If an unforeseen incident occurs on your company's property, you may have to deal with a lawsuit. Having cameras installed ensures that you have indisputable evidence to back up your story. If you suspect an employee of misconduct, you can simply check the camera to make sure your worries are not misguided. You never want to have to depend on your cameras, but it is certainly nice to know that they are there when you do.
Con: Employees may feel stifled
Any office manager knows that keeping morale up is essential to keep productivity high. Although you may mean well, installing cameras can sometimes be viewed as an invasion of privacy. It is important to form a bond of trust with your employees, and cameras or phone/Internet monitoring can undo the work you have done to establish meaningful relationships. However, explaining your stance on the issue and approaching it head-on may help to alleviate any concerns your staff may have.
Pro: Monitoring employees provides valuable training materials
Sometimes explaining how to handle a situation just isn't as effective as being able to show a trainee a video or recording of a similar situation. Or, if an accident occurs, having video or audio recordings allows you to see what went wrong and prevent problems next time. Often words do not carry nearly as much impact as a recording of a real-life situation, so in-office surveillance can make your employees better at their jobs and more equipped to handle tough situations.
Con: The cost
Although today's surveillance cameras are surprisingly budget-friendly, you still have to consider the cost of hiring employees to monitor them. You may also need to have them repaired if something goes wrong. Depending on the size of your office, buying multiple cameras and monitors can get quite pricy. The cameras often pay for themselves in the long run, however, by reducing theft and increasing productivity.
Choose based on your situation
Every office is different, and what works for one may not be ideal for another. Cameras can be absolutely essential in some situations, or you may be able to operate just fine without them. You may want to start with just a camera or two to see how your employees react, and then add more if necessary. Making the right choice for your office can be challenging, but in-office surveillance can be a valuable way to protect your livelihood and improve employee conduct.