According to a study from Corporate Responsibility Magazine and talent acquisition firm Alexander Mann Solutions, company reputation has a significant impact on staff recruitment, retention, and salary expenses. Prospective candidates are extremely hesitant to join a company with a bad reputation and, among those who may be willing to accept a job offer, a significant pay raise is required. Conversely, they can be tempted to move to a company with a good reputation for a significantly lower raise.
To leave their current employer and take a job with a company with a bad reputation, males would require an average of a 53% pay increase—60% among females. In total, nearly half  (48%) would require more than a 50% increase in pay. While 93% of people who are currently employed would leave their employer to work for a company with a good reputation, that rate goes down to 70% for companies with a bad reputation. Workers would only require, on average, a 33% pay increase to move to a company with a good reputation, with just 18% requiring a raise of more than 50%.
Among companies with a bad reputation:

Among those with a good reputation:

These trends hold true and are even magnified among unemployed individuals. An overwhelming 76% of people said they are unlikely to accept a job offer from a company with a bad reputation, even if they do not hold a current job.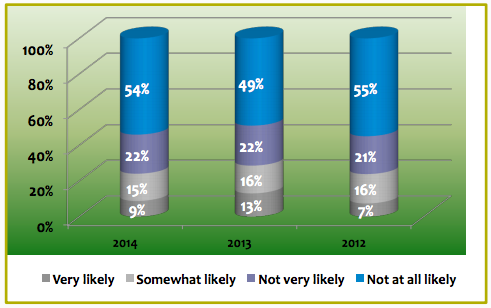 Researchers found that companies face increased recruiting costs due to the greater difficulty to source and attract new hires, particularly when recruiting women and more experienced workers. But these costs are far from the greatest of a company's troubles. "While recruiting expense increases are in the millions of dollars, this great expense is literally dwarfed by the billions of salary cost differential," the study reads. "The cost of recruiting and salaries added to any expenses associated with a reputation damaged by an environmental scandal, for example, can be disastrous to a company's bottom line."
Further, CEO reputation can make a critical impact on the success and expense required to recruit top talent. "A CEO perceived to be active in CR and environmental issues has impact on recruiting. This reputation should be maximized when building the employer brand or against competitors whose reputations may be weaker," the study said.
The study also examined the most damaging sources of a bad corporate reputation: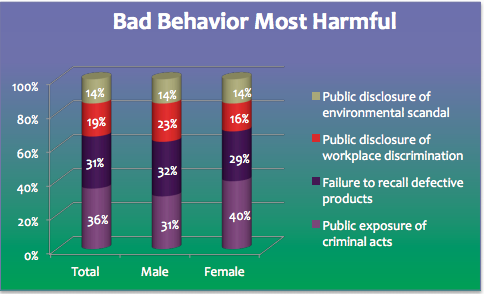 Similar Posts: