While many California farmers are taking a wait-and-see approach regarding future rainfall, some almond growers are moving ahead with the removal of mature trees. But much more is at risk, including jobs and agricultural products for the rest of the country.
California grows about half of all U.S. fruits and vegetables, mostly in the Central Valley region. It also ranks as the top farm state by annual value of agricultural products. Crops exclusive to California are almonds, dates, figs, grapes for raisins, pomegranates, olives, peaches, pistachios, plums, rice, walnuts, kiwi fruit and clover seed.
In January, Gov. Jerry Brown declared a drought emergency, and this month President Obama announced relief aid for California farmers and ranchers. Because of the severity of the ongoing drought, the U.S. Bureau of Reclamation as well as the State Water Project said there would be no water for Central Valley farmers and ranchers. According to the California Farm Water Coalition, it is expected that about 2 million acres in the San Joaquin Valley will receive no water this year.
"We estimate that more than 500,000 acres of farmland will be idled this year due to water supply shortages," Mike Wade, executive director of the California Farm Water Coalition said in a statement. He added that agricultural water supply shortages "harm more than just the farms that produce hundreds of varieties of food, fiber and nursery products. Unemployment may hit 15,000 seasonal and full time agricultural workers if this year's drought has the kind of impact on the economy that occurred in 2009. Water shortages then led to idling of 269,000 acres and over 7,400 workers, about half of the expected impact of this year's drought."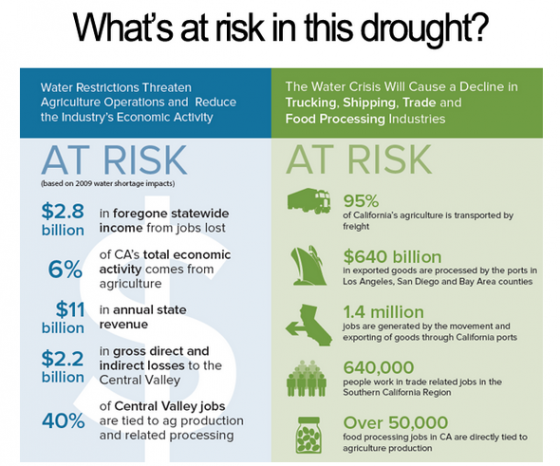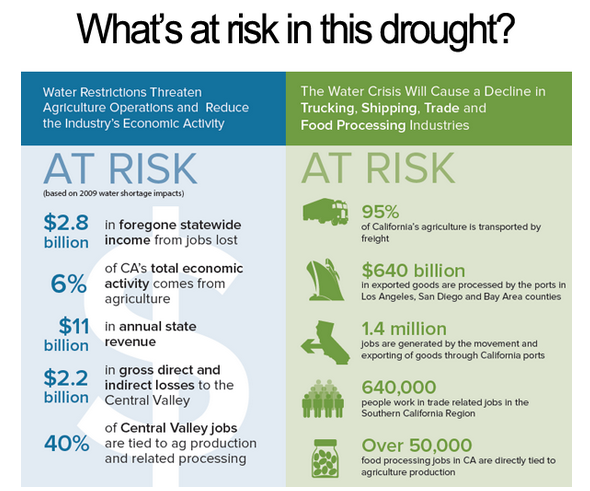 Graphics/California Farm Water Coalition
Barry Baker of Baker Farming Company, which normally grows 5,000 acres of almonds, is one of the growers who is removing trees— 20% of them. The Associated Press reported that Baker calculated that before the summer almond harvest he would need to spend $2.5 million. That includes irrigating orchards with scarce, expensive water and paying to have the trees pruned and sprayed. He would also need to have bee hives brought in to pollinate the blossoms at a cost of nearly $500 an acre. Not knowing whether there will be any relief, he made the decision to go ahead and remove the trees.
Once removed, the trees are being turned into wood chips and taken to power plants for bio fuel. Tim Lynch of Agra Marketing Group said power plants in the state currently have almost more wood chips from almond trees than they can handle.
The Agricultural Marketing Resource Center reports that California is the only state producing almonds commercially. The state's 2012 almond crop totaled 2.0 billion pounds, a 2% drop from the previous year and was valued at $4.3 billion. Per person consumption of almonds in the United States has generally been increasing and reached 1.8 pounds in 2011, according to the Almond Board of California.
The United States is the largest producer of almonds, harvesting 80% of the world's crop, followed by the European Union – 27, of which Spain, and Australia each harvest 6%, the organization said.
Similar Posts: