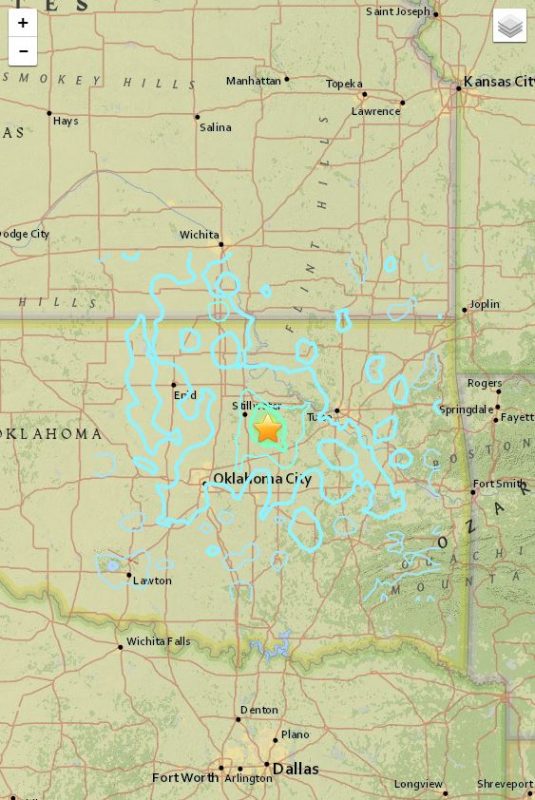 A magnitude 5.0 earthquake that rocked Cushing, Oklahoma, on Nov. 6 damaged part of the city's downtown district, but left no major damage to bridges or highways.
Early reports indicate the damage is not insignificant. A 16-block area in the hard-hit downtown has been sectioned off because of the danger posed by unstable structures and broken glass. No serious injuries or fatalities have been reported, however. Power in Cushing was out for less than an hour following the quake, and several gas leaks were taken care of.
The city, which has a population of 7,900, is noted as the world's largest oil storage terminal and has experienced 19 earthquakes in just the past week, raising safety concerns. As of last week, the town's tank farms held 58.5 million barrels of crude oil, according to the U.S. Energy Information Administration. The number of earthquakes in the area has also risen exponentially. During the first half of this year, 618 temblors of M2.8 or greater have shaken Oklahoma.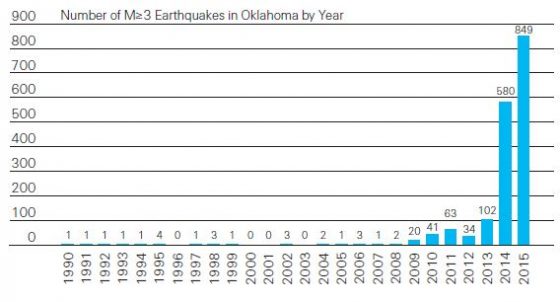 Swiss Re noted in its September 2016 report The Link Between Hydrofracking, Wastewater Injection and Earthquakes: Key Issues for Re/insurers:
Since 2008 the number of magnitude 3.0 earthquakes per year has grown from roughly 2 per year to an average of nearly 3 per day. This now makes Oklahoma the most seismically active of the lower forty-eight states. It's highly likely that this dramatic rise in earthquake occurrence is largely a consequence of human actions. Along with the increase in seismicity, Oklahoma has seen a growth in its oil and natural gas operations since 2008, specifically hydraulic fracturing (often referred to as "hydrofracking" or "fracking") and the disposal of wastewater via deep well injection.
A number of states that have increased wastewater injection activity have seen increases in the number of induced earthquakes, the study said, but the reason for such a large increase in Oklahoma is still unclear. Because of the large amount of crude oil storage in the Cushing area, strong shaking is worrisome and has led some to proclaim that induced earthquakes are a national security threat.
According to AIR-Worldwide, it is not clear whether the occurrences of the small and intermediate size earthquakes being seen, and the stress changes from wastewater disposal could trigger larger and more damaging earthquakes. As a precaution, the Oklahoma Corporation Commission ordered four new Arbuckle disposal wells to be shut and 10 to reduce their volume by 25%. In Osage County, 32 wells will have reduced volume.
Experts believe limiting injection volumes is helpful because of the link between high-volume injection and earthquakes, but Swiss Re's report concluded that while, most companies participate in the suggested reductions following a detected earthquake, economic pressure to continue wastewater injection often prevails. "Changing regulations, and how the oil and gas industry respond, remain the biggest contributor to uncertainty of how the risk will change in the future," Swiss Re said.
Similar Posts: