The first Risk Management Curriculum Development Grant was awarded to St. Francis College in Brooklyn, N.Y. by the Spencer Educational Foundation earlier this week. The $50,000 grant was presented to the college for development of risk management modules for their management courses.
"In the past, all major institutions had training programs for new hires that covered important issues like risk management," said St. Francis College President Brendan J. Dugan. "But now, students need to come to the recruiters with all of these skills under their belt. This grant will help us prepare them."
Through the grant, St. Francis College's School of Business plans to create eight risk management modules. The first four modules, targeted for the school's entry-level management program, are designed to:
• Introduce the concept of insurance and risk management and its importance to an enterprise
• Deal with sophisticated concepts regarding types of insurance, providers and regulation
• Discuss how the financial performance of insurers is measured and the scope of insurance operations including marketing, underwriting and claims
• Highlight careers in the industry
"Over the summer, we will be developing the first set of modules," said Allen Burdowski, Ph. D., dean for academic programs and development. "These will be introduced in the fall 2014 semester to our entry-level management majors. The second set of four modules will be offered the following year."
The latter set will target upper level management and finance courses and focus on insurance contracts and loss exposures, advanced risk management, an introduction to life and personal lines insurance and an introduction to commercial insurance.
Spencer Educational Foundation Chairwoman Peggy Accordino noted, "Today, we take the next step to increase the knowledge and information available about our industry. We look forward to working with St. Francis College and congratulate them on being awarded this grant."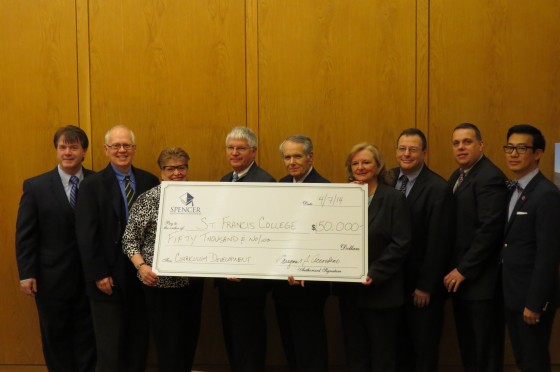 Pictured above: Angela Sabatino, programs director, Spencer Educational Foundation (left of check) and Foundation Chairwoman Peggy Accordino (right of check).  Representing the college are (L to R) Thomas Flood, vice president of development; Edward Stewart, grants manager; John Dilyard, management professor; Brendan J. Dugan, president; Allen Burdowski, dean for academic programs and development; James Fazio, management professor; and Dennis Anderson, chair of management and IT.
Similar Posts: