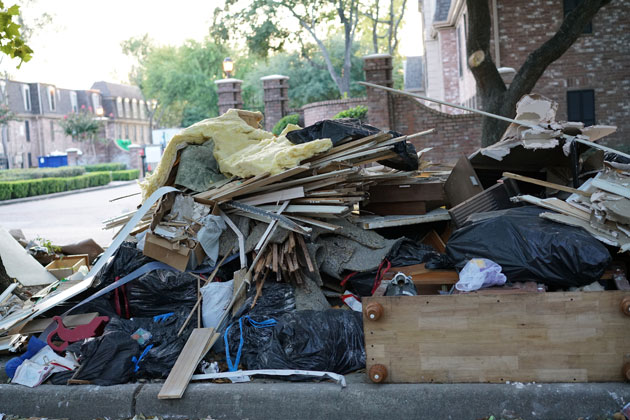 It's difficult to find a photo of Houston, Miami, or any city hit by Hurricanes Harvey and Irma that doesn't contain mountains of debris. As cleanup continues, more trash is piling up everywhere. Cities and towns are faced with a number of issues including costs, expediency, manpower and just what to do with all that trash.
Reuters reported that cleanup after Hurricane Katrina in 2005 took about a year. Hugh Kaufman, a retired EPA solid waste and emergency response analyst said the overall bill for Katrina was $2 billion, the largest to date. That cleanup spanned several states and the demolition of the more than 23,000 homes in the New Orleans area alone. He believes the combined cleanup tab for Harvey and Irma will top Katrina's.
In Houston, city officials estimate that about 8 million cubic yards of debris will need to be hauled away, enough to fill up the Texans' NRG Stadium twice. There are about 100,000 piles of trash in the city, with collection farther along in some neighborhoods than in others, according to the New York Times. Moving these mountains of garbage has been left to county and local officials, who hire debris removal companies to help. FEMA reimburses local governments for 90% of their cost. About $136 million in federal funds were released to pay for initial cleanup around Houston, Reuters said.
In Brevard County, Florida, it is estimated there will be 600,000 cubic yards of trash hauled away—compared to 800,000 cubic yards after Hurricane Matthew—which they anticipate will take about a month, Florida Today reported. Because there is no set schedule for pickup, a number of residents decided not to wait, instead hauling their debris to landfills, causing traffic tie-ups.
Where will all this trash go? In Texas, contracted waste haulers and municipal crews are moving trash to dozens of landfills.
Judith Enck, a former regional administrator for the Environmental Protection Agency who dealt with the aftermath of Hurricane Sandy told the New York Times that figuring out what to do with debris is one of the most challenging aspects of any storm. Because decisions are generally made at the local level, she said, "every community has to kind of reinvent the wheel."
Setting aside appliances like refrigerators for recycling, chipping downed trees for mulch instead of burning them, prevents pollution and extends the life of landfills, Enck said, adding that leaking landfills present a hazard that can pollute groundwater.
A number of municipalities are asking residents and businesses that put their trash out for pickup to separate trees and other plant material from debris such as shingles, fences and roofing materials.
Florida Today offered these guidelines for preparing storm debris for pickup:
Debris should be placed on the curbside, but not in the road or on a sidewalk.
Debris should be sorted into separate piles—such as piles for vegetation, for wooden construction debris and for metal construction debris—to help speed up the pickup process.
Vegetation and other debris should be cut into sections no longer than 4 feet.
Do not use bags for yard waste, as it makes it impossible to recycle or mulch.
Do not put yard waste on top of storm drains, as it could block receding waters from Hurricane Irma flooding.
Neatly stack construction and demolition debris (drywall, roof shingles, siding, carpet, fencing and docks).
Never place debris next to utility poles or transformers, under power lines, on top of water meters, by fire hydrants, near vehicles, next to mailboxes or fences.
Do not place debris on other people's property.
Similar Posts: