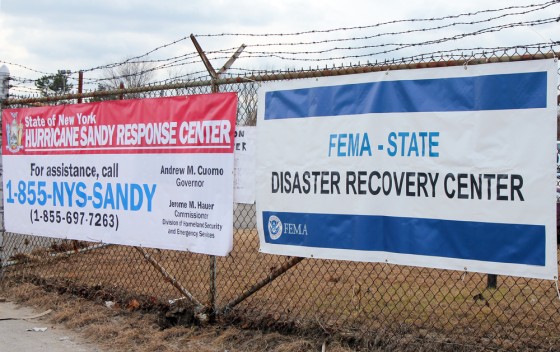 Insurers will be vindicated of accusations of fraud for rejecting flood damage claims made by Superstorm Sandy victims, an insurance industry expert predicts.
New York's Attorney General Eric Schneiderman has opened an investigation into accusations against insurers Wright National Flood Insurance Co., units of Travelers Cos. and Hartford Financial Services Group Inc., which contract with the government's National Flood Insurance Program (NFIP), of rejecting property flood damage claims of Sandy victims based on falsified engineering reports, Bloomberg reported this week.
Called a Write Your Own program (WYO), the Federal Emergency Management Agency (FEMA) allows participating property and casualty insurers to write and service the Standard Flood Insurance Policy in their own names.
Under the WYO program, insurers receive an expense allowance for policies written and claims processed while the federal government retains responsibility for underwriting losses. The WYO Program operates as part of the NFIP, and is subject to its rules and regulations, according to FEMA, which oversees the flood insurance program.
"I am confident that the attorney general will be satisfied that insurers involved with the Write Your Own program were operating in a manner consistent with NFIP guidelines," said Robert P. Hartwig, Ph.D., president of the Insurance Information Institute.
Lawsuits in federal court accuse the insurers of colluding with engineering firms and others to deny or reduce damage payouts based on fraudulent reports. Schneiderman is investigating whether any crimes were committed. According to The Hartford Courant, more than 1,000 lawsuits are involved, alleging that homeowners were underpaid by insurance companies. Attorneys said insurers accepted altered engineering reports in a "peer review" process.
Insurers point out that the property disputes involve only about 1% of all flood claims and that the peer-review process is common practice—a quality control measure to make sure the federal government doesn't overpay on flood claims.
Regarding the lawsuits that have been filed, Hartwig said, "I am equally confident that the evidence will indicate once again that insurers were operating in a manner consistent with NFIP guidelines."
He explained that the lawsuits lodged against insurers alleging that certain insurers and firms hired to perform engineering analyses on flood-damaged properties were acting together to reduce or deny claims, "reflect a fundamental  misunderstanding of how the NFIP WYO program works. Engineering firms routinely and appropriately use a peer review process to review work performed. Occasionally, that process leads to additional opinions being reflected in an engineering report, which can thus impact the dollar amount received by claimants. This is part of a routine and necessary quality-control process."
Hartwig said that this process is "no different than peer review in other technical and scientific disciplines. Using medicine as an example, test results are routinely reviewed by more than one medical professional before a diagnosis and course of treatments are rendered."
Moreover, he added, insurers and the engineering firms hired are not financially motivated "to pay claimants anything other than a fair and accurate assessment of the losses compensable under the NFIP policy purchased. Insurers that consistently underpay or overpay claims can be removed from the program by the NFIP/FEMA."
Similar Posts: