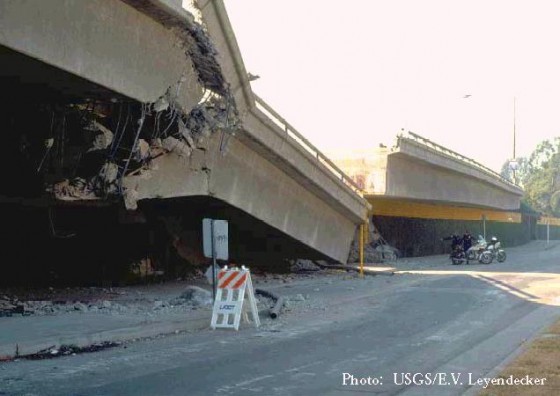 Last week was the 20-year anniversary of the Northridge Earthquake. The 6.7-magnitude event that hit on Jan. 17, 1994 at 4:30 a.m. stands as the second costliest disaster in U.S. history, following Hurricane Katrina. Northridge cost $42 billion in total damages, while Katrina cost $81 billion, according to federal figures.
The U.S. Geological Society (USGS) said that 60 people were killed, more than 7,000 injured, 20,000 were left homeless and more than 40,000 buildings were damaged in Los Angeles, Ventura, Orange and San Bernardino Counties.
The San Fernando Valley saw maximum intensities of magnitude-9 in the areas of Northridge and Sherman Oaks. Significant damage also occurred in Glendale, Santa Clarita, Santa Monica, Simi Valley, Fillmore and in western and central Los Angeles, the USGS said.
Seven freeway bridges collapsed, 212 others were damaged and 82,000 residential and commercial buildings were damaged or destroyed. About 200 steel-frame buildings suffering significant cracking, AP reported. Collapsed overpasses closed sections of the Santa Monica Freeway, the Antelope Valley Freeway, the Simi Valley Freeway and the Golden State Freeway.
The quake resulted in $12.5 billion in insurance payouts. If the event happened today, insured losses would be about $24 billion, AIR Worldwide said.
This was a significant event for me, as I was living in Los Angeles at the time. I had been living there for five years and this was my first, and hopefully last ever, earthquake experience. There had been many false alarms over the years that usually ended up being something like an extra heavy truck rumbling by. But when the real thing happened there was no question that it was, indeed, an earthquake.
Pretty much anything that could have been broken in my place was. Bookcases tumbled over sending contents everywhere. One of my sisters, who lived in Simi Valley, had every cabinet and drawer emptied by the shaking. Televisions, appliances and most furniture were ruined. Because there was no power for days and everyone in her neighborhood risked losing all their frozen food, she and her neighbors came together. They brought all of their grills and frozen food into the middle of the street where they proceeded to cook everything, supplying food for the neighborhood for days. This not only used up any food that would have otherwise spoiled, but it gave the kids a chance to run around and play with their friends and get their minds off of the terrible destruction surrounding them.
Because an earthquake is so sudden and severe, experiencing something like that is a shock to the system and takes a while to get over. Driving through L.A., I saw flattened homes, cars, apartment buildings, office buildings and parking structures.
One big success story and source of pride for Los Angeles was the Santa Monica Freeway, one of the world's busiest, which had two areas collapse during the earthquake. It was a proud moment when freeway repairs were finished a full 74 days early. It's a testament to what strong wills, traffic tie-ups and a large bonus will do.
The Los Angeles Times reported:
Spurred by the promise of an extra $200,000 a day for every day work was completed ahead of schedule, the contractor, C. C. Myers Inc., will finish the project 74 days before a June 24 deadline and rack up a $14.5-million bonus for the company.

The high-speed construction was made possible by crews working around the clock, seven days a week, and by state officials cutting through red tape.

"This freeway, with its broken bridges, broken connectors, became one of the most visible signs of the devastation brought upon Los Angeles by the Northridge earthquake," Gov. Pete Wilson said during a news conference at the freeway. "Now its rebuilding and its reopening . . . will serve as one of the . . . symbols of the energy of this great community."

In Sacramento, Caltrans Director James van Loben Sels estimated that without the accelerated effort the project would probably have taken two years to complete.

But the acceleration did not come without cost. With the bonuses given to C. C. Myers, the price tag on the project rose from the original bid of $14.9 million to nearly $30 million.
Similar Posts: