A state of emergency was declared in California yesterday by Gov. Edmund G. Brown due to the effects of a 6.1 magnitude earthquake that rocked the Napa Valley area in northern California. The U.S. Geological Survey estimates that economic losses from the quake could top $1 billion and said there is a 54% likelihood of another large quake, magnitude 5 or higher, within the next week.
As of 4:15 p.m. Sunday, six aftershocks had been reported, four centered near Napa, ranging 2.5 to 3.6 magnitude. Two others, a 2.8 and a 2.6 were reported near American Canyon, according to the USGS.
The Napa quake is the largest in the Bay Area since the 1989 Loma Prieta quake, which was magnitude 6.9. That quake resulted in $1.8 billion in insured claims (in 2013 dollars) being paid to policyholders, said Robert Hartwig, Ph.D., president of the Insurance Information Institute.
In the Napa region, widespread damage has been reported to infrastructure, including roads and utilities and public buildings such as the Napa Post Office, the county's administration building and numerous homes. The City of Napa reported that as of Sunday afternoon 120 patients had been treated or are being treated. Three patients—two adults and one child—suffered critical injuries, Gov. Brown's office reported., adding that power outages also occurred, affecting 69,000 people across the region.
The costliest earthquake in United States history, was the Northridge Quake, with insured losses totaling $24.1 billion (in 2013 dollars). The U.S. has about 20,000 earthquakes annually, mostly small, and 42 states are at risk of quakes, according to the U.S. Geological Survey.
Despite the known high potential for earthquakes and resulting damages in the state, however, only about 12% of California homeowners purchase earthquake coverage, the I.I.I. said.
Of concern are business interruption (BI) losses, as the Napa region is a popular tourist destination. Many businesses that attract visitors, including wineries and restaurants, have sustained damage, both non-structural and structural, according to EQECAT.
According to the I.I.I.:
Earthquakes in the United States are not covered under standard homeowners or business insurance policies. Coverage is usually available for earthquake damage in the form of an endorsement to a home or business insurance policy. However, insurers that don't sell earthquake insurance may still be impacted by these catastrophes due to losses from fire following a quake. These losses could involve claims for business interruption and additional living expenses as well. Cars and other vehicles are covered for earthquake damage under the comprehensive part of the auto insurance policy.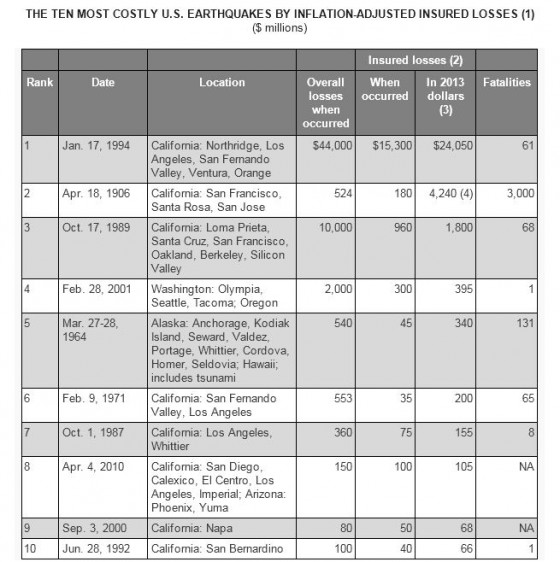 { 0 comments }