The rate index for property and casualty risks was down 2% in May, the same as was seen in April, MarketScout reported. Accounts of more than $250,000 were priced more aggressively in May, at minus 3% compared to minus 2% in April.
"The market was stable in May with small movements in coverage, industry, and size classifications," MarketScout CEO Richard Kerr said. "As we have seen in the past, larger premium accounts were priced more aggressively. Overall, the composite rate was down 2% in May, matching the rate for April."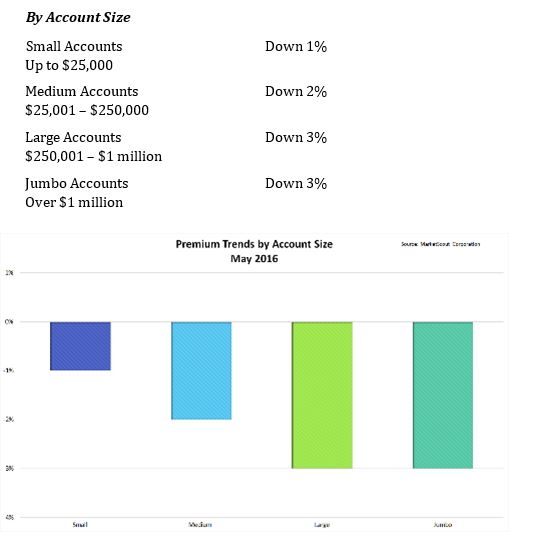 According to the Insurance Information Institute:
A dominant factor in the P/C insurance cycle is intense competition within the industry. Premium rates drop as insurance companies compete vigorously to increase market share. As the market softens to the point that profits diminish or vanish completely, the capital needed to underwrite new business is depleted. In the up phase of the cycle, competition is less intense, underwriting standards become more stringent, the supply of insurance is limited due to the depletion of capital and, as a result, premiums rise. The prospect of higher profits draws more capital into the marketplace, leading to more competition and the inevitable down phase of the cycle.
By coverage classification, rates for property, business interruption, professional, auto, directors and officers, and surety all moderated 1% compared to April. Crime coverage increased from flat to plus 1%.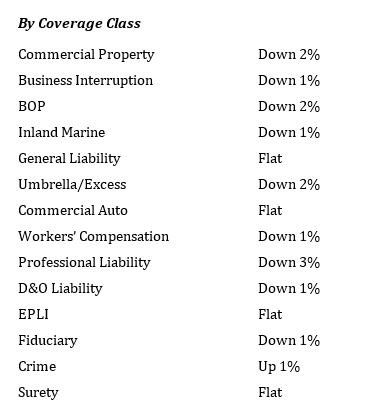 Industry classifications are examined to determine rate movement as measured when grouping accounts according to their SIC, or Standard Industrial Classification codes, MarketScout said. SIC codes are four-digit numerical codes assigned by the U.S. government to business establishments to identify their primary business, according to SICcode.com.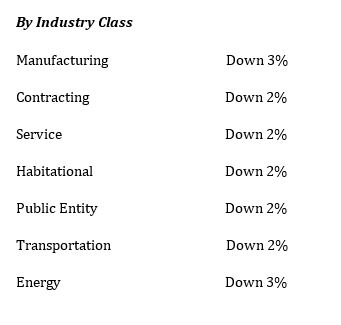 The SIC codes are then incorporated into seven different segments. The only changes in rates in May versus April were in habitational, which moderated from minus 3% to minus 2%; and energy, which was priced slightly more aggressively at minus 3% compared to minus 2%. All other industry classifications were unchanged compared to April, MarketScout said.
Similar Posts: