Today's "social age" has brought many changes to the corporate world and increased the competitive threats enterprises have to deal with on an ongoing basis. Traditionally, competition has been upfront and direct with open head-to-head strategies to win customers and market share. But as the world approaches a complete "digital state" the competitive tactics against corporations have never been more threatening or aggressive.
As disruptive, non-traditional business competitors emerge, many of these organizations are adopting tactics that would typically be "off limits" to traditional corporations, including partnering with activist groups to attack and disrupt the market leader to damage the reputation and erode the financial state of the organization.
Many enterprises are no longer simply looking to compete, but actually to protect their operations against the disruptive, aggressive forces these non-traditional competitors are partnering with. To combat these unconventional tactics, traditional corporations are turning to real-time advanced social intelligence to receive deep, multidimensional insight on the tactics and actions.
Disruptive Forces
With the proliferation of social media channels and mobile technology, competition for corporations is no longer limited to large, traditional competitors. Technology has allowed a generation of young entrepreneurs to compete with the proverbial Goliath, and quite effectively in many cases. However, in order to gain a competitive foothold in the battle for market share, many small, aggressive companies are targeting their colossal, traditional counterparts across the open social universe, engaging a variety of tactics. The objectives of these emerging competitors are often to dramatically disrupt the market and its leaders and to damage, if not destroy their financial state and reputations.
One example of these emerging disruptors is SodaStream, which is targeting the 178-year-old U.S. carbonated beverage industry with their home soda machines. The company's focus is to completely disrupt the traditional soda beverage market by convincing consumers to make their own carbonated beverages at home. One of SodaStream's major tactics is to focus on their product's elimination of plastic bottles, which they target as an environmental threat.
Creating Disruption with Activists
To maximize this strategic disruption, SodaStream opted to partner with Alex Bogusky, the former co-chairman of ad agency Crispin, Porter + Bogusky, which ironically designed and developed ads for Coke Zero during his tenure. Now an activist against the beverage industry, Bogusky is known for developing widespread activist campaigns against the carbonated beverage industry for health and environmental causes.
As an example of his work, Bogusky has developed viral videos, like one entitled "Real Bears" that chastises his former client, Coca-Cola, using their iconic polar bears to make statements on the health effects, like diabetes and high blood pressure, of soda consumption. Bogusky distributed these videos with the Center for Science in the Public Interest, a self-described non-profit watchdog and consumer advocacy group focusing on nutritional education and awareness. To date his "Real Bears" video has had over 2.2 million views on YouTube.
SodaStream turned to Bogusky to create their 2013 Super Bowl ad targeting soda manufacturers for the amount of plastic bottles they produce. The ad directly attacks the beverage industry's market leaders with exploding bottles as consumers use SodaStream's product, saying, "With SodaStream, we could have saved 500 million bottles on gameday alone." While one SodaStream ad submission was aired, another that directly showed Coca-Cola and Pepsi was rejected by CBS.
Bogusky's activism approach delivers SodaStream a direct, aggressive channel that many traditional competitors do not employ. Bogusky also affords SodaStream the opportunity to leverage his extensive, sympathetic social network, which features a wide array of activists targeting a variety causes against the beverage industry's leading providers, ranging from portion size, bottle elimination and sugars to soda taxes and an array of health issues. This network spans activists and advocates across the media, academic, health and corporate sectors, which Bogusky leverages to bring further pressure against the beverage market's leaders, providing a greater advantage for SodaStream. This direct, aggressive approach poses a huge financial risk for the market leaders who have been battling for carbonated beverage industry supremacy for nearly half a century.
Unveiling the Activist Network
Half the challenge of mitigating risk is having the ability to identify it. The complexity of these competitive forces can be very challenging to pinpoint and understand. However, as companies are now faced with the critical need to gain insight into these new types of veiled, aggressive competitive threats, more enterprises are turning to advanced social intelligence to identify, map and track these threats both individually and collectively to help guide their strategic direction and decisions.
Mapping the activist partners of SodaStream unveils a massive "stealth" network that is often, knowingly or unknowingly, supporting the efforts against SodaStream's competitors. The example below unveils Bogusky's massive sympathetic activist network focused on damaging the reputation and financial state of beverage industry leaders, which provides a collective reach to tens of millions of consumers to distribute their damaging messages.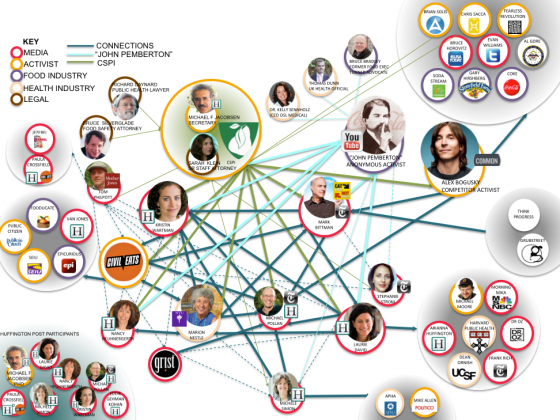 Despite their differing focuses, most of these individual activists share a common objective to damage, or even destroy the major providers of carbonated beverages, which is an objective they share with SodaStream.
Achieving Advanced Competitive Intelligence
Corporations are no longer faced with only traditional, direct competitors. Rather, companies have to understand the emerging disruptive competitors that will often join forces with individual aggressive activists and their massive sympathetic networks to damage their business, engaging unconventional tactics to disrupt industries that have traditionally been unmovable.
To gain this type of advanced insight on a corporation's disruptive competitors and the activists who may be working in concert to damage them, the organization needs the ability to filter, classify and analyze billions of daily open social discussions to extract invaluable on-going insight. This insight delivers multidimensional competitive views previously unavailable to the corporation to drive strategic decision-making. It is not always effective enough for corporations to rely on simplistic keyword lists and basic tools that "listen" to narrow samples of the social landscape. To manage the widespread financial and reputational threats, the enterprise has to process the entire open social universe, using measure that includes sophisticated "big data" processing tools and analysis from digital media experts.
This advanced social intelligence facilitates proactive planning and strategic response to effectively combat these competitive forces, allowing businesses to protect themselves and their employees, their market share and even their industry itself.
Similar Posts: