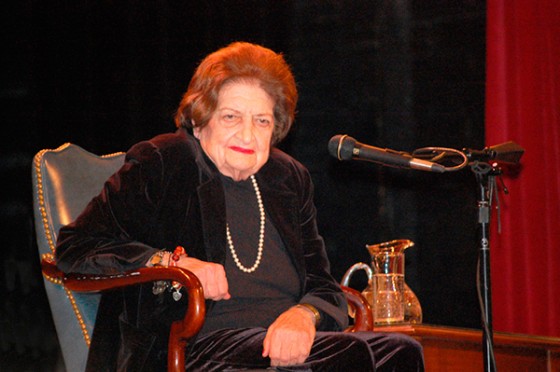 You can say what you want about Helen Thomas, who passed away on Saturday, July 21, but she took her job seriously and she will definitely be remembered.
She was White House correspondent for United Press International for 40 years. In 1960, she became the first woman reporter to cover the White House, and was the first female member of the White House Correspondents Association. She was also the first woman admitted to the Gridiron Club in Washington.
Covering 10 presidents from JFK to Obama, she asked the tough questions and held the country's leaders accountable. And she didn't wilt or flinch, even when those leaders were visibly uncomfortable with her questions.
Hearing the news of her death reminded me of the time I met Helen, along with a friend who has also passed away.
In 2007 Helen spoke at the opening general session at the Captive Insurance Companies Association's (CICA) annual conference in Phoenix, which I attended.
The evening before, I was having dinner with fellow journalist Karen Cutts, founder and managing Editor of the Risk Retention Reporter. Karen and I had become friends over the years and we enjoyed the chance to catch up at these events. Unfortunately, Karen passed away, on Feb. 2, 2010.
But that evening during dinner Karen gasped excitedly, "There's Helen Thomas! Let's say hello." I turned around and there she was, sitting by herself in a nearby booth. We went over to say hi and she invited us to chat. She was very pleasant and curious, asking questions about the insurance industry and captive insurance.
The next day as keynote, she talked about her experience covering the White House and the Presidents. I also recall that not all CICA attendees were happy about her appearance. The controversies surrounding her were apparent.
I sent Dennis P. Harwick, president of CICA an email asking about his impressions of Helen at the time.
"It was poignant to see all the press about Helen Thomas's passing. She remains the CICA keynote speaker with the highest number of very high ratings – and the highest number of very low ratings! Unfortunately, many of those low ratings didn't stay to hear her whole speech – which pretty much leveled everyone, not just the Republicans like some seemed to think," Harwick replied.
His assessment pretty much sums up people's attitudes about Helen in general.
But whatever the consensus, no one can deny she worked hard to bring transparency to Washington politics.
Thomas was quoted by ABC News, regarding a reporter's role in Washington: "We are the watchdogs. Self-anointed, self-appointed but we're there and it is very important we be there.
"We are a pain in the neck. We're there intruding, watching, asking questions, trying to decide who they are, what they are, constantly nit-picking," she said.
Similar Posts: