In case you need another reason to dread getting to work this first week of 2018, several weather authorities are warning of a major storm that could affect a majority of the United States with freezing conditions. Storm advisories are being issued from New England states to southeastern winter getaways. Residents of South Carolina, Georgia and even northern Florida should be thinking about stocking up on ground salt, thermal pants and hand warmers.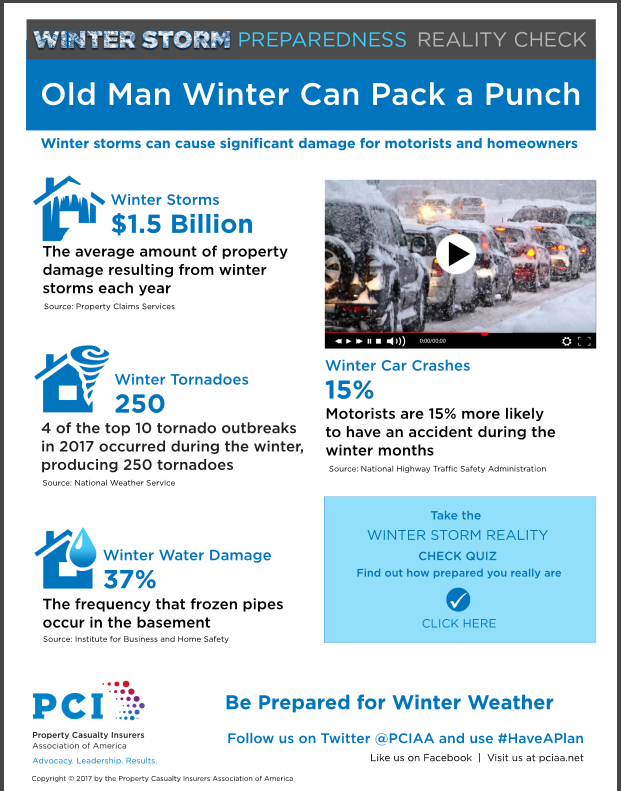 Nancy Egan, Property Casualty Insurers Association of America's (PCI) regional manager warned: "A dangerous combination of snow, sleet and freezing rain is on the horizon for the Southeast. Weather like this can cause auto accidents, and property damage, and leave thousands without power. Driving in these treacherous conditions can be tricky, so if you do venture out, make sure your vehicle has a winter storm kit in case you have an accident or get stuck and have to wait for help."
PCI suggests that winter storm kits include a windshield scraper and small broom; flashlight with extra batteries; road salt, sand or cat litter for traction; booster cables; emergency flares and reflectors; snack food; blankets and a first aid kit.
These warnings are inspired by speculation that intensifying winds and cold will bring about a phenomenon known as "bombogenesis" from Thursday to Friday. In an online primer, Mashable delved into the relevant information that organizations need to know about the "weather bomb" or "bomb cyclone."
[Bombogenesis] refers to a low pressure area whose minimum central air pressure plummets by at least 24 millibars in 24 hours. By feasting off of intense atmospheric disturbances as well as differences in air masses and ocean temperatures, including the moisture rich Gulf Stream waters, the upcoming tempest is projected to exceed that intensification rate by several more millibars in 24 hours. This intensification rate, if it comes to pass, would be astonishing.
The potential impact of the upcoming storm could equal that of a Category 3 hurricane, the same strength Hurricane Sandy reached at its peak in 2012. With this in mind, companies located anywhere along the projected path should be heeding the warnings and preparing.
This follows a cold snap that has so far killed at least 11 people in cold-related deaths in the U.S. since Tuesday morning, CNN reported. Some of the victims were located in Wisconsin, North Dakota, Missouri and Texas.
The Southeast has a history of being especially vulnerable to cold-weather conditions. On Jan. 29, 2014, the greater-Atlanta area was rendered nearly unnavigable due to about two inches of snow and ice. Although Georgia is the home of the Weather Channel, state officials failed to act on warnings of the precipitation and freezing conditions, and closed all schools mid-day—about the same time that businesses shuttered for the day. Between parents who were on the road to pick up their children and adults leaving their workplaces due to early closings, millions of cars ended up on roadways, causing a gridlock that prevented salt trucks from safely getting to and from storage areas.
The consequences were unprecedented for the area. Although no fatalities were recorded, the Peach State experienced thousands of traffic accidents, closures and even automobile abandonments on interstate highways.
To prevent such a disaster from reoccurring, Georgia's Department of Transportation announced via Twitter this week that it has mobilized 13 trucks loaded with salt and gravel in anticipation of the storm. While no announcements have been distributed on the Florida Department of Transportation's site, FloridaDisaster.org is keeping its visitors updated with news of "below average temperatures." South Carolina has been posting updates on its DOT site, and reminding motorists to use particular caution and to "watch for slow moving SCDOT equipment applying deicing materials."