This year's Sierra Nevada snowpack, one of the largest on record, has brought relief to California, which is still reeling from a five-year drought followed by record flooding. The snowpack is twice its average size, with some areas as deep as 80 feet, according to NASA. But with some rivers and dams still at higher than average levels, the fear is that warm temperatures or heavy rainfall will cause the snows to melt faster and bring more flooding.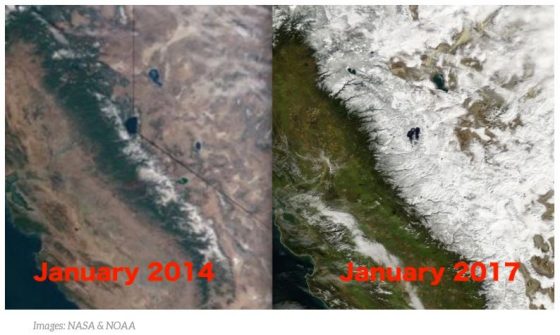 Colorado and other mountain states, which also experienced heavy snowfall this winter are also concerned with runoff issues. Canada has faced severe runoff problems, after a heat wave earlier this spring resulted in major flooding in Quebec and British Columbia, the Wall Street Journal reported.
"The real wild card is if we get hit with a big rain event," Frank Gehrke, chief snow surveyor for the California Department of Water Resources, told the Wall Street Journal as he monitored a rushing stream in late May. "That could throw the whole system into tilt."
The Los Angeles Times reported last month that the rapid snowmelt has kept public agencies busy managing water levels across the state's network of reservoirs. Water district managers must conduct daily conference calls to coordinate releases of water in order to monitor the amounts released into California's rivers, creeks, bypasses and canals. This coordination is critical, as reservoir releases impact water levels downstream for days. Since one reservoir's release may meet with another, managers must determine how much water the rivers and levees can support before overflowing.
A number of dams levees and weirs in the state are at least 60 years old, and in some areas more than 100 years old, according to a state Legislative Analyst's Office report. It noted that flood-management responsibilities in California are spread across more than 1,300 agencies managing an infrastructure of more than 20,000 miles of levees and channels and more than 1,500 dams and reservoirs.
One reservoir in Los Angeles, the Silver Lake Reservoir, is benefiting from the snowpack and ample water supply. No longer used to store drinking water, the reservoir was drained in 2015. It sat empty and was seen as an eyesore, until recently when it was able to be refilled ahead of schedule.
According to the L.A. Times, the Silver Lake Neighborhood Council expressed its pleasure that the reservoir was refilled. The council's co-chair, Anne-Marie Johnson, a second-generation Silver Lake resident, said she is "more than excited" that the landmark will no longer be an eyesore. "I am grateful to Mother Nature for providing us an abundance of snow. I don't take that for granted," she said.