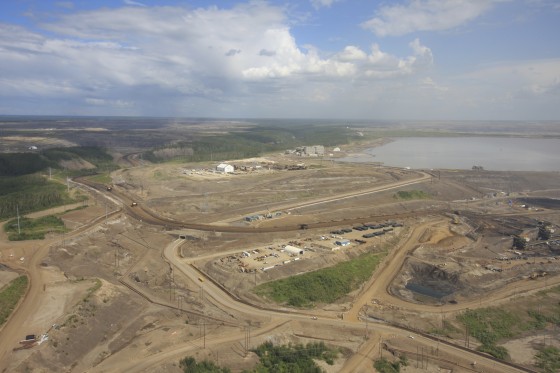 Wildfires have shut down tar sand operations north of Fort McMurray, Alberta, Canada
Drought conditions in 2015 left Alberta, Canada, parched. Combined with recent winds and high temperatures, this has led to a massive, intense wildfire in the oil city of Fort McMurray, forcing evacuation of more than 80,000 people, and burning about 1,500 homes. Authorities said there have been no known casualties from the blaze, but that fatalities were reported in at least one vehicle crash along the evacuation route.
On Tuesday, the municipality of Wood Buffalo announced mandatory evacuations and closed all southbound routes. Residents fled to safer ground north of the of the area, where they spent Wednesday night in arenas, hockey rinks and oil work camps that often ran short of supplies, Reuters reports.
The fire is now five times its initial size and spreading south, taking it farther away from the massive tar sands area. Shell Nexen, Suncor and other oil sands operators have curtailed or shut down operations to protect pipelines and help evacuate employees and nearby residents, according to the Washington Post.
The wildfires in Canada illustrate a continuing trend of increasingly severe wildfires that in the United States caused a record 10.1 million acres to be burned in 2015, surpassing the previous high of 9.8 million acres in 2006, Mark Crawford reported in last month's issue of Risk Management. It was the fourth year in the past decade in which more than nine million acres burned. According to the U.S. Forest Service, the 2015 wildfire season was the costliest on record, with more than $2 billion spent fighting fires.
Environmental scientists at the Harvard School of Engineering and Applied Sciences said in 2013 that rising temperatures could lengthen wildfire seasons, increasing burn areas and smoke from fires.
Meanwhile, current weather reports for Alberta have raised hopes, as the forecast calls for cooler temperatures and possible rain.