The number of piracy and armed robbery incidents in Asia from January to September 2016 decreased by 65% compared to the same period in 2015. A total of 59 incidents were reported during the period, including three piracy and 56 armed robbery incidents, according to the Regional Cooperation Agreement on Combating Piracy and Armed Robbery against Ships in Asia (ReCAAP).
ReCAAP emphasized that the decrease in the overall number of incidents was most evident in the Straits of Malacca and Singapore. Other improvements were reported at ports and anchorages in Bangladesh and Vietnam. In these regions, there were only two incidents from January to September 2016, compared to 96 incidents in the same period last year. About 73% of the incidents occurred on board ships while at ports and anchorages, and 27% on ships while underway.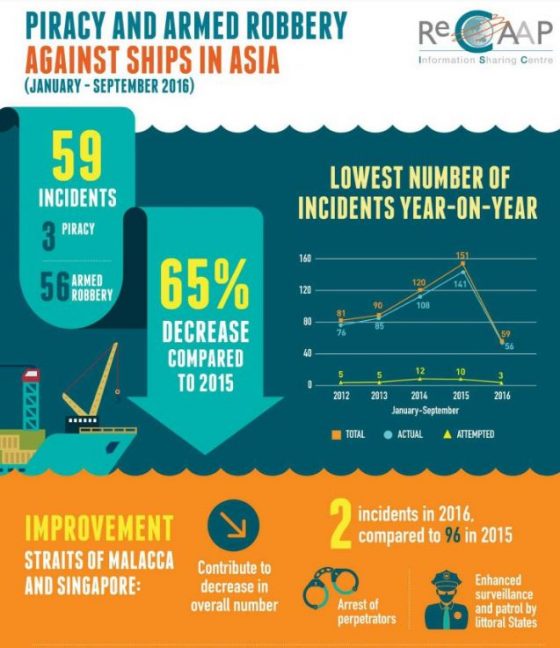 There was also a decrease in hijacking of ships for oil cargo theft during the nine-month period—only two such incidents occurred, compared to 12 incidents in 2015.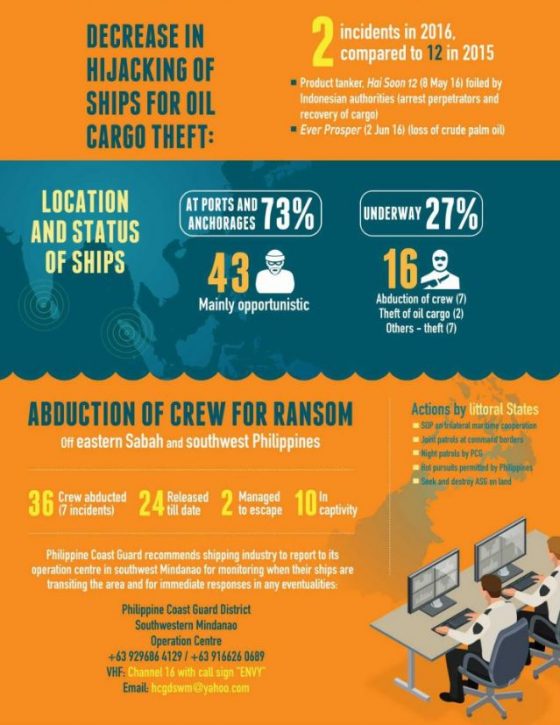 Although the total number of incidents has decreased, there is no room for complacency, ReCAAP emphasized. Measures must be implemented to prevent recurrence of incidents involving the abduction of crew in the Sulu Sea and hijacking ships to steal oil cargo. Crews need to be vigilant while underway and maintain watch at ports and anchorages. In addition, authorities should implement port security measures and maintain regular surveillance.