After two days of cancellations due to a system-wide outage, leaving thousands of customers stranded, Delta today announced it will return to normal operation by mid-to-late afternoon. It added a caveat, however, that "a chance of scattered thunderstorms expected in the eastern U.S. may have the potential to slow the recovery."
Delta said that by late morning on Wednesday it had canceled 255 flights while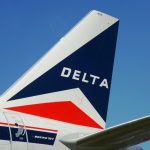 1,500 departed. About 800 flights were canceled on Tuesday and there were around 1,000 cancellations on Monday. It also extended its travel waiver and continued to provide hotel vouchers, of which more than 2,300 were issued Tuesday night in Atlanta alone.
"The technology systems that allow airport customer service agents to process check-ins, conduct boarding and dispatch aircraft are functioning normally with the bulk of delays and cancellations coming as a result of flight crews displaced or running up against their maximum allowed duty period following the outage," Delta said.
The company's chief operating officer, Gil West, said on Aug. 9:
Monday morning a critical power control module at our Technology Command Center malfunctioned, causing a surge to the transformer and a loss of power. The universal power was stabilized and power was restored quickly. But when this happened, critical systems and network equipment didn't switch over to backups. Other systems did. And now we're seeing instability in these systems. For example we're seeing slowness in a system that airport customer service agents use to process check-ins, conduct boarding and dispatch aircraft. Delta agents today are using the original interface we designed for this system while we continue with our resetting efforts.
Like many large airlines, Delta uses its proprietary computer system for its bookings and operations, and the fact that other airlines appeared unaffected by the outage also pointed to the company's equipment, said independent industry analyst Robert Mann.

Critical computer systems have backups and are tested to ensure high reliability, he said. It was not clear why those systems had not worked to prevent Delta's problems, he said.

"That suggests a communications component or network component could have failed," he said.
The airline has not yet detailed the financial impact of the event.