The length of time victims wounded in school shootings and terror attacks must wait for help from an EMT could be minutes or hours—during which time they could bleed to death. This has happened in a number of cases, including a shooting at an Orlando nightclub in June, when a woman bled to death while waiting for help to arrive.
These incidents have prompted the Department of Homeland Security's Stop the Bleed campaign, a nationwide initiative to empower individuals to act quickly and save lives in emergency situations. Bystanders are asked to take simple steps to keep an injured person alive until medical care is available. Security guards, custodians, teachers and administrators are being trained at schools and other places to administer first aid until help arrives.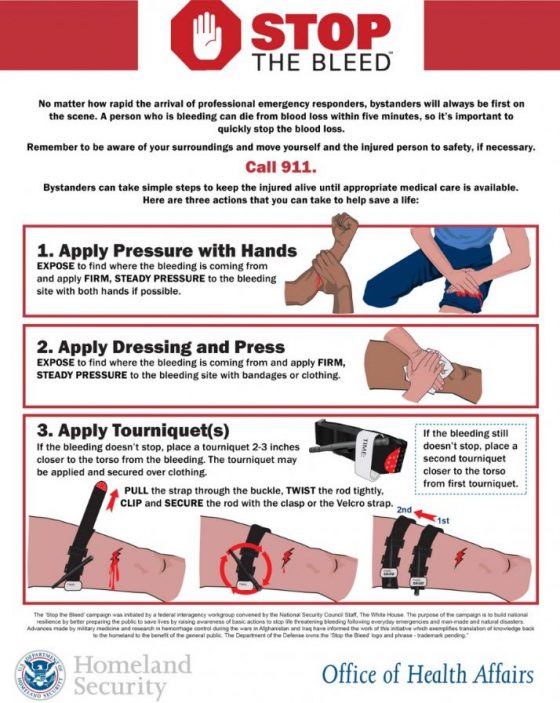 Stony Brook University Hospital's trauma center is spearheading training for school districts and colleges across the country. According to the Associated Press:
At a recent training session, paramedics and doctors brought in fake body parts—blood spurting from the wounds—to show staffers of a Long Island school district how to tie tourniquets and pack open wounds with whatever they have.

"Seconds matter. It really can be minutes when you can lose your life," said Dr. James Vosswinkel, the chief of trauma and emergency surgery at Stony Brook University Hospital, who led the training.

Doctors emphasized that in the critical seconds after an attack it's important for teachers and other school staff to stay calm and begin assessing injuries. Teachers learned to apply tourniquets in case a student is shot in the arms or legs—using T-shirts or belts, if necessary—and to stick anything they can to pack wounds in the torso.

Stony Brook doctors have reached out to local schools to offer the training, but are looking to expand the program as part of a federal Department of Homeland Security initiative to other schools, colleges and police departments across the country.

"Nobody should die from preventable hemorrhage," Vosswinkel said.