New research into earthquake activity in the United States has revealed that nearly half of all Americans are at risk of potential ground shaking from earthquakes. This is almost twice the previous estimate of 75 million, according to the U.S. Geological Survey (USGS).
"The new exposure estimate is nearly double the previous 2006 estimate of 75 million Americans in 39 states, and is attributed to both population growth and advances in science," William Leith, USGS senior science advisor for earthquake and geologic hazards and co-author of the study said in a statement. "Populations have grown significantly in areas prone to earthquakes, and USGS scientists have improved data and methodologies that allow for more accurate estimates of earthquake hazards and ground shaking."
To bring awareness to this potential danger, a number of organizations worldwide are participating today in the Great ShakeOut, which encourages individuals and organizations to develop contingency plans and practice earthquake drills.
During the drill, participants practice "drop, cover, and hold on," the recommended safety action to take during an earthquake.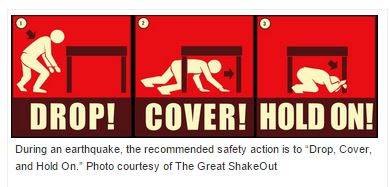 Take cover under a sturdy desk or table, and hold on to it securely. If there is not a desk or table nearby, drop to the floor against an interior wall, then protect your head and neck with your arms. Avoid exterior walls, windows, hanging objects, mirrors, tall furniture, large appliances, and kitchen cabinets filled with heavy objects or glass.
While on the ground, look around and see what objects could fall during a potential earthquake, and make sure to secure or move those items after the drill.
The Great ShakeOut recommends that organizations:
Meet with department heads to review plan and obtain their buy-in, if necessary, and determine what level of drill your organization will conduct and who will participate. Consider drilling at a higher level to engage staff to be more effective during a disaster. (Drill manuals are available in ShakeOut regional website in the Resources section)
Level 1 – Simple: Drop, Cover and Hold On
Level 2 – Basic: Life Safety Drill
Level 3 – Intermediate: Decision-Making Drill
Level 4 – Advanced: Business Operations Drill
Create a drill/exercise plan that includes an overview of what your drill will consist of (even if just drop, cover and hold on), what you expect to happen during the drill, and a feedback session after the drill to identify strengths and weaknesses
Inform employees/staff participants of date and time of drill, your expectations for their participation, and the benefits of the drill
Encourage suppliers, vendors, contractors, partnering organizations, and others in your network to participate – as a means of protecting your organization – and share ShakeOut resources with them. (Consider other tasks that can protect your organization and supply chain, such as having service agreements in place to ensure that the services or products you rely on will be available after disaster)
Create an employee awareness campaign:
Post ShakeOut banners and signs throughout your organization to encourage and remind employees, vendors, and customer to participate
Initiate an email campaign to employees, staff, and customers with information and tips on how to prepare at home and work
Encourage employees to post a ShakeOut-related safety message on their outgoing email messages.
Review and use materials in the Resources section of your regional ShakeOut website:
• Drill broadcast audio/video recordings
• Earthquake safety recommendations for people with disabilities, for people in stores, etc.
• Custom flyers for many organization types
Hold a drill on ShakeOut day (or an alternative date)
Have post-drill discussions to hear what people learned and plan next steps.