A strong 6.2 magnitude earthquake that stuck Central Italy in the early morning hours of Aug. 24 has caused about 250 deaths and hundreds of injuries. The temblor stuck 10km (6.2 miles) southeast of Norcia and 100km (62.13 miles) northeast of Rome. Areas with the most damage are smaller, older towns consisting of unreinforced masonry buildings. One such town was Amatrice, which the town's mayor has said "no longer exists."
Dozens of aftershocks have since occurred in the area—the strongest a magnitude 5.5. Because it was a shallow quake, occurring about six miles below the surface, it was more destructive, the New York Times reported.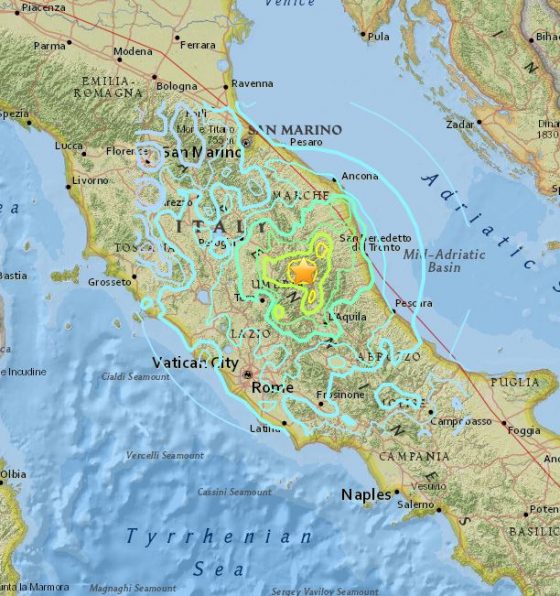 Map: USGS.gov

The vicinity of Wednesday's temblor has also experienced significant earthquakes in the past, including one with a magnitude of 6.3 near the town of L'Aquila in 2009. According to the Times. That quake killed at least 295 people, injured more than 1,000 and left 55,000 homeless. Bloomberg reported that only about 2% of the economic loss from the 2009 quake was insured.
Catastrophe modeling firm AIR Worldwide said that Italy's nonlife insurance market is the eighth-largest in the world and the fifth largest in Europe, and its property insurance market is the second-largest nonlife market in the country after automobile. Earthquake coverage, however, is often not included in standard homeowners' policies and is typically issued as an extension of fire policies. Earthquake coverage for industrial and commercial structures may be offered for an additional premium, which varies by region.
Fitch Ratings said on Aug. 26 that it expects to see limited impact on Italian insurers. According to Fitch:
We estimate insured losses of EUR100 million-EUR200 million, arising mainly from property lines. Our estimate reflects the low density of population and businesses and limited insurance coverage in the region. Claims of this magnitude would not have a material impact on Italian insurers' underwriting results or credit profiles. Italian non-life insurers wrote EUR2.3 billion of gross written premiums of property insurance in 2015.

Italy has declared a state of emergency in the region hit by the earthquake and the government has pledged EUR50 million for first aid. The declaration of a state of emergency means that certain losses will be covered by a state fund for emergencies, limiting losses for insurers.

We expect the insured losses to be EUR40 million-EUR80 million for primary insurers and EUR60 million-EUR120 million for reinsurers. A similar event that struck a nearby area in 2009, where the insurance exposure was higher, caused insured losses of around EUR250 million.