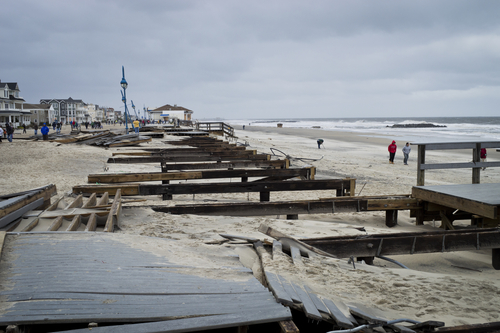 President Obama's Hurricane Sandy Rebuilding Task Force released their findings yesterday, sharing 69 recommendations to repair existing damage and strengthen infrastructure ahead of future natural disasters.
The task force encouraged an emphasis on new construction over simple repair, citing the impact of climate change on severe weather events. "More than ever, it is critical that when we build for the future, we do so in a way that makes communities more resilient to emerging challenges such as rising sea levels, extreme heat, and more frequent and intense storms," the report said. Construction designed for increasingly dangerous storms, infrastructure strengthened to prevent power failure and fuel shortage, and a cellular service system that can subsist during disasters are all critical investments to prevent future loss.
Recommendations included streamlining federal agencies' review processes for reconstruction projects, revising federal mortgage policies so homeowners can get insurance checks faster, and making greater use of natural barriers like wetlands and sand dunes. The team also said that planners need better tools to evaluate and quantify long-term benefits of future projects along the shoreline, but did not detail what would be best ecologically and economically.
According to USA Today, Sen. Charles Schumer (D-N.Y.) said the Sandy task force report shows that "we have much work to do hardening our energy, telecommunications and transportation infrastructure," and that "the federal government must be a proactive partner with local governments and the private sector."
Some of the task force's suggestions have already been put into place. As the AP reported, this includes the creation of new Federal Flood Reduction Standard for infrastructure projects built with government funds and promotion of the Sea Level Rise Tool, which will help builders and engineers predict where flooding might occur in the future.
The government has closed over 99.5% of over 143,000 National Flood Insurance Program claims related to Hurricane Sandy and paid out more than $7.8 billion to policyholders, according to the task force report. The federal government should support local efforts to mitigate future risk by funding local disaster recovery manager positions and encouraging homeowners to take steps to reduce the risk of future damage, which will also make rising flood insurance premiums more affordable, the report said. The team has also launched Rebuild by Design, "a competition that will attract world-class talent to develop actionable plans that will make the Sandy-impacted region more resilient."