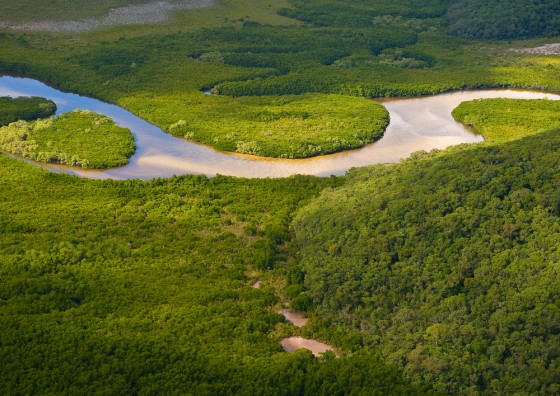 NEW YORK—Hurricane Irene and Superstorm Sandy had devastating impacts on the northeast coastline, debilitating parts of New York and New Jersey. While also in the path of the storms, Delaware saw minimal impact, which the state's former head of natural resources and environmental control, Colin O'Mara, attributed to its conservation efforts.
Now president and chief executive officer of the National Wildlife Federation, O'Mara spoke at the New York Recovery and Resilience Leadership Forum here June 2, explaining that the state had been building up natural barriers and testing its resilience with various resources.
"During the storm we were checking sandbags and making sure systems were in place and I was wondering if these systems were going to hold," he said. "What we found was that the system did work." He noted, "One of the reasons you haven't heard much about what happened in Delaware, compared to New Jersey and New York, is the state's investments in wetlands, living shoreline projects and oyster beds. These natural systems can absorb the shock of crashing waves and absorb water."
A living shoreline is a habitat-friendly alternative to rip rap, bulkhead or stone revetments, creating wetland habitat that supports blue crabs, oysters, fish, birds and plants. They can also stop erosion, increase water quality and protect the shoreline from erosion, according to the state of Delaware's website.
A number of municipalities across the country are making significant advances in natural infrastructure, O'Mara said, "and you are not seeing big taxpayer bailouts of those communities because these systems work."
At the same time, he noted, many areas do not encourage these types of investments. "In fact, there are a number of policies that are actually putting people in harm's way," he said. "We've been trying to think through how to have traditional market forces work to the advantage of resilience, instead of having a massive bailout after an event, which is a liability to the taxpayer."
Conversations about mitigating with natural resources, however, often get nowhere because people believe their insurance programs will bail them out. "Because of government programs, people are actually paying so much less than the insurance value they are receiving, that natural resources as a solution will lose," O'Mara said. As a result, "All of a sudden that coast seems more developable because the landowner developing it isn't actually bearing the cost." The real problem is that, after the money has been made and a homeowner is living in the house, the risk is still there. "So you've privatized the problem, but you have socialized all of the risk," he said.
Instead, O'Mara believes it is critical that information about the real costs of destroying a dune, along with the protections it brings be available. "This isn't an easy conversation, but it is actually an area of commonality," he said. "Whether you want to reduce government spending, reduce liability or foster more private sector activity, this is an area that shouldn't be partisan at all."
Projects of this nature are currently in the works in New York City; Cape May, New Jersey; and Boston, Massachusetts. Such spending on the front end produces much higher savings in the long run, O'Mara said, noting that putting natural resources to work can lower insurance rates and generate private sector involvement.
"We can do things a lot smarter and be a lot safer than we are right now," O'Mara said. "This should be as bipartisan as anything we do in this country. The economics make sense, the science makes sense and the social science makes sense." After all, at the end of the day, "people just want to be safe," he said.