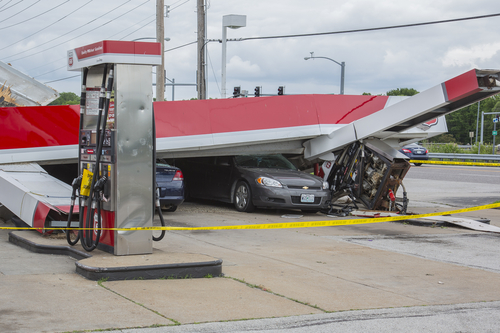 A series of tornadoes in the Midwest on Sunday that killed six, levelled homes and businesses and left tens of thousands without power may top $1 billion in insured losses, according to risk modeller RMS.
The New York Times reported that on Nov. 18, Illinois Governor Pat Quinn declared seven counties disaster areas and said he would seek relief funding from state and federal agencies. He also said the series of tornadoes were the deadliest to occur in the state in November.
Matthew Nielsen, director of model product management at RMS said in an email that while damage estimates are far from final, "There is a good chance that Sunday's outbreak will likely rank as one of the top five most significant November outbreaks since 1950."
The magnitude and severity of the tornado outbreak was driven by two factors, he said, "Unseasonably strong thermodynamic instability and unusually strong wind shear throughout the depth of the atmosphere."
Robert P. Hartwig, Ph.D., president of the Insurance Information Institute said from the Chicago airport, en route to assess the tornado damage first hand, that there is "No question that it will at least be the second costliest tornado event of the year." The largest event this year was the Moore, Okla., tornadoes, which approached $1.6 billion in insured losses. By comparison, damage from the Midwest tornadoes is spread over a wider area, impacting Illinois, Michigan and Indiana.
"There are thousands of damaged structures throughout the states that were hit—residential and commercial," he said. "What's difficult to tell at this point is the extent of commercial damage and that can really drive up the losses. Not only are commercial structures more expensive, but there is often a business interruption component as well."
He explained that insured losses for tornadoes are typically higher than those for floods. Because there was no flooding involved, more of the losses would be covered by insurance, meaning a faster recovery. "The vast majority of property owners here are going to have insurance coverage. Uninsured losses may include some business interruption loss, vehicles that didn't carry comprehensive coverage and uninsured structures," he said.
As is generally the case after tornadoes, "Most people will be getting checks [from their insurers] very quickly, which will help them with temporary living expenses. It will also help them make initial repairs more quickly and provide funds for debris removal so that rebuilding can start," Hartwig said.