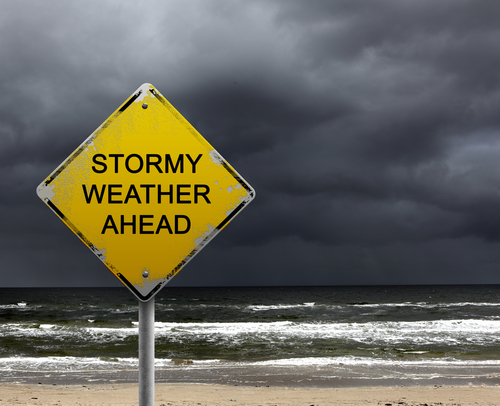 In a press conference this morning, the Climate Prediction Center of the National Oceanic and Atmospheric Administration (NOAA) released its official 2014 outlook for the Atlantic and Eastern Pacific hurricane seasons.
The East Coast may see below-average activity this year, thanks, in part, to the anticipated development of El Nino this summer. According to NOAA, "El Niño causes stronger wind shear, which reduces the number and intensity of tropical storms and hurricanes. El Niño can also strengthen the trade winds and increase the atmospheric stability across the tropical Atlantic, making it more difficult for cloud systems coming off of Africa to intensify into tropical storms."
There is a 50% chance for a below-average season, a 40% chance of a near-normal season, and only a 10% chance of an above-average season, the center predicts. "For the six-month hurricane season, which begins June 1, NOAA predicts a 70 percent likelihood of 8 to 13 named storms (winds of 39 mph or higher), of which three to six could become hurricanes (winds of 74 mph or higher), including one to two major hurricanes (Category 3, 4 or 5; winds of 111 mph or higher)," they announced.
But the forecast is no reason to take preparations lightly. "Thanks to the environmental intelligence from NOAA's network of earth observations, our scientists and meteorologists can provide life-saving products like our new storm surge threat map and our hurricane forecasts," said Kathryn Sullivan, Ph.D., NOAA administrator. "And even though we expect El Niño to suppress the number of storms this season, it's important to remember it takes only one land-falling storm to cause a disaster."
On the West Coast, it may be a more tumultuous summer. The outlook calls for a 50% chance of an above-normal season, a 40% chance of a near-normal season, and a 10% chance of a below-normal season. The center predicts there is a 70% chance of 14 to 20 named storms, which includes 7 to 11 hurricanes, of which 3 to 6 are expected to become major hurricanes (Category 3, 4 or 5 on the Saffir-Simpson Hurricane Wind Scale).
"The key climate factor behind the outlook is the likely development of El Niño this summer. El Niño decreases the vertical wind shear over the eastern tropical Pacific, favoring more and stronger tropical storms and hurricanes," said Gerry Bell, Ph.D., lead seasonal hurricane forecaster with NOAA's Climate Prediction Center. "The eastern Pacific has been in an era of low activity for hurricanes since 1995, but this pattern will be offset in 2014 by the impacts of El Niño."
Next week (May 25-31) is National Hurricane Preparedness Week, and NOAA and FEMA will be offering additional tips and insight on their websites ahead of the official start of hurricane season on June 1.