This year's Judicial Hellholes report, published by the American Tort Reform Association, identifies nine "hellholes" in light of changes in the U.S. state court system, the types of cases being seen and the courts' balance between defendants and plaintiffs.
The top nine judicial hellholes are: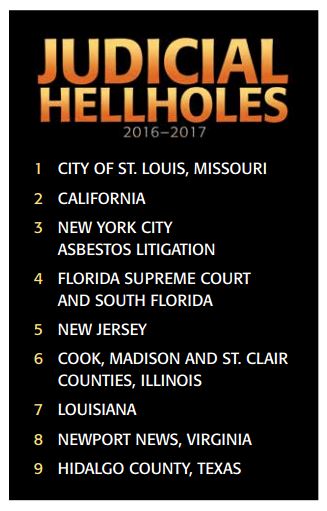 And if that isn't enough, the report also includes a "Watch List," calling attention to eight additional jurisdictions "that bear watching due to their histories of abusive litigation or troubling developments." Those are: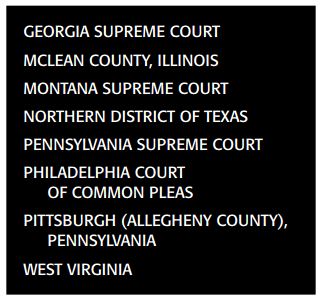 But the news isn't all bad. The report examines "Points of Light," which are examples of "fair and balanced judicial decisions that adhere to the rule of law and respect the policy-making authority of the legislative and executive branches." Highlights include positive court rulings from 11 states.
These courts made it easier to dismiss groundless claims, tougher to bring junk science into court, gave juries a more accurate understanding of how injuries occurred in auto accident cases, and reduced the potential for inflated damage awards. Courts also confirmed that a state attorney general can dismiss meritless cases brought on behalf of the state, but can't hand the state's law enforcement power to private contingency fee lawyers.
The report also points out that there are a staggering number of new laws on the books for companies to keep track of. In fact, since 2010, there was an average of 827 new laws annually in California alone.
From 2010 through 2015, lawmakers in Sacramento managed to tack onto the books an annual average of more than 800 new laws. In 2016, they added another 893, at least some of which (see SB 859, SB 1063, SB 1130, SB 1150 and SB 1241) were designed primarily to foment still more litigation and related costs that for many years have helped drive businesses, along with their jobs and tax revenues, into the arms of less litigious states across the country and around the globe.