A recent report published by RIMS highlights the importance for risk professionals—or the person within the organization tasked with the responsibility—to fully understand the language included in their insurance policies.
The report A Common Language: Aligning Third-Party Contracts with Insurance Policies, suggests that there are "clauses in contacts that may not be understood as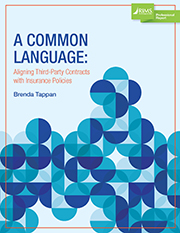 well as others, and some people may be tempted to skim past those to move work along."  But, in this haste, deciding to "skim" past those clauses may activate exclusions, limitations and even, unknowingly, nullify the transfer of risk to a third-party.
Authored for RIMS by Brenda Tappan of United Educators, the report defines key insurance terms that should be understood by contract reviewers, as well as common contract clauses that impact the validity of both the contract and insurance policies.
"At any given time, an organization could have hundreds of contracts with external stakeholders," Tappan said. "With in-depth knowledge of coverages held by the organization, risk professionals can play an integral role in ensuring terminology is understood and that discrepancies between third-party contracts and insurance policies are identified."
The report advises risk managers to be aware of the following insurance contract elements:
Indemnification Clauses – This clause delineates whether the parties of a contract wish to retain, transfer or share responsibility from a potential third-party. Be aware that not all "bodily injury" or "property damage" will be covered, even if you have stipulated everything correctly in the indemnification clause.
Additional Insured Status – This status provides proof of financial capability to cover what is assumed in the indemnity clause. Keep the additional insured provision separate from indemnification clause because if the latter is found unenforceable, the additional insured clause might be unenforceable as well.
Waivers of Subrogation – This says that the insurer has the right to stand in the place of the insured and go against the responsible party to make themselves whole. Risk professionals might consider requesting a Waiver of Transfer of Rights endorsement. Also, get as much in writing as possible – don't leave anything up to chance or interpretation.
Primary and Non-Contributory – Essentially, the insured will not seek contribution from any other insurance available. When named an additional insured, you are afforded coverage as provided by the other insurance policy.
Excess and Umbrella Coverage – Organizations buy this coverage to increase the limits. It can be used for commercial general liability, commercial auto, employers liability, and other primary liability policies. As an indemnitor, you will want to ensure that for any coverage that taps into the policies that provide the upper limits, there is a specified cap to the coverage contractually offered to the indemnitee.
Limitation of Liability – It's an attempt by third-party contractors to cap the amount of liability they will be responsible for to a set amount prior to an incident. Be on the lookout for these limitation of liability clauses. Generally, they are found toward the end of the contract, but can have a significant impact on indemnification.