Venues that attract crowds, such as large sports events and concerts are reviewing their security measures, both inside and out, to prevent an attack such as the suicide bombing after an Ariana Grande concert in Manchester, England, that killed at least 22 people.
Most venues have strict rules about bags, backpacks and coolers. Some check items thoroughly before allowing them inside an arena and others do not permit them at all. Venues also employ security detail to check those attending events as well as plainclothes detail to monitor the crowd. In the Unites States, the Department of Homeland Security warned that the U.S. public may experience increased security at public events.
Hong Kong's AsiaWorld Expo, where Ariana Grande is scheduled to hold a concert in September, said it plans to improve security at all concerts and events. Besides baggage inspection, there will also be metal detectors and search dogs, it said in a statement.
According to the South China Morning Post, the Hong Kong venue said it will begin using metal detectors to screen for potential threats, in addition to its usual backpack and baggage inspections. It also said it would consider using search dogs for any suspicious items or requiring visitors to wear security straps to track them while in the venue.
One mega event, the annual Indianapolis 500 over Memorial Day weekend, took to heart the task of keeping attendees safe. Adding to security planning measures for more than 300,000 attendees was the safety of Vice President Mike Pence, who was expected to attend—and arrived on Sunday morning.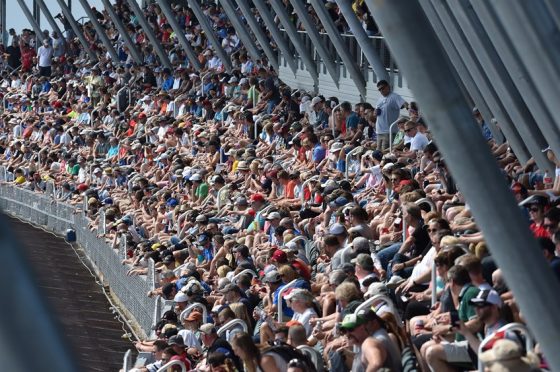 Indy 500 crowd, May 26, 2017. Photo by Dana Garrett
Reuters reported that the Indy 500 has a Homeland Security SEAR 2 (Special Event Assessment Rating) designation, which means federal assets can be brought in to enhance security efforts during the event.
The Indy 500 is regarded as the world's largest single day sporting event. Only venues on par with the Super Bowl and the Democratic and Republican conventions are given higher security ratings. Local, state and federal agencies contributed to security efforts at the Indy 500, including sniffer dogs, license plate recognition equipment and multiple security checkpoints to enforce restrictions.
There are those who believe, however, that even with enhanced measures, terrorist acts cannot be completely anticipated or stopped.
"Whatever is done—and in this case it's British intelligence which is considered among the best in the world—it won't prevent such incidents happening," Jean-Charles Brisard, president of the Centre for the Analysis of Terrorism told Reuters. "You can bring back the perimeter, add security gates and as many controls as you want, but that will not change the fact that a determined individual will carry out his act if he is not caught before."