Closer attention to underwriting and losses has led to premium increases averaging 1% in the second quarter of 2017, continuing an upward trend this year. The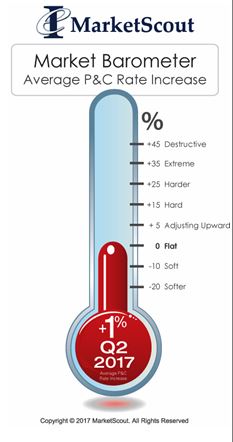 transportation sector, most notably auto-related exposures, is seeing the highest increases, up to 4%, according to a report released today by MarketScout.
"We now have two consecutive quarters of composite rate premium increases. Insurers are adjusting pricing as they should, based upon losses incurred, expense loads and targeted returns on equity," Richard Kerr, CEO and Founder of MarketScout said in a statement.
By account size, organizations smaller to medium-size saw the highest premium increases. Small accounts (under $25,000 premium) increased from up 1% to up 2%, medium accounts ($25,001 – $250,000) went from flat to plus 1%, large accounts ($250,001 – $1 million) were unchanged and jumbo accounts (more than $1 million) were down 1% compared to a drop of 2% the prior quarter.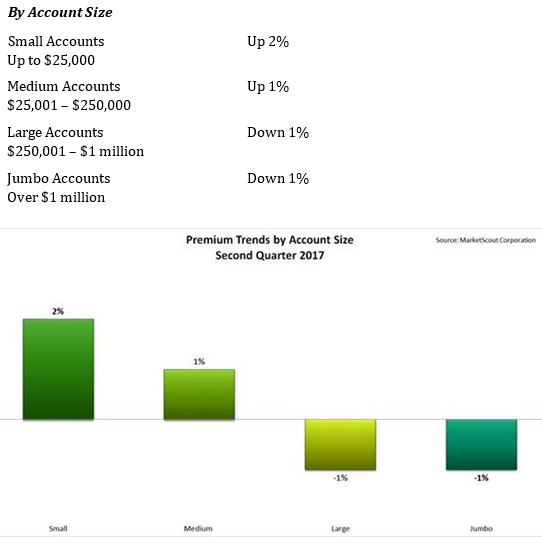 By coverage class, commercial property and inland marine adjusted from down 1% in the first quarter, to up 1% in the second quarter. Commercial auto rates rose from up 3% to up 4%. EPLI also went from up 1% to up 2%. Fiduciary adjusted downward to flat or no increase compared to up 1% in the prior quarter. All other coverage classifications were unchanged from the previous quarter, according to the report.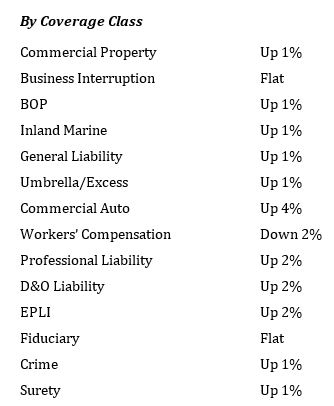 By industry class, public entity rates moderated from up 1% to flat. Transportation risks experienced slightly lower rate increases with second quarter rates up 4% compared to 5% first quarter.