The much publicized Weather Bomb, AKA Bomb Cyclone is here in full force. As the storm travels north, much of the northeast is experiencing blinding snowstorms and fierce winds, and states of emergency have been declared in five states. Schools and airports are closed and warnings are in effect for workers to stay home and keep off the roads. Some people must get out and drive, however, and so whether making deliveries, heading to or from work, or running necessary errands, drivers and asked to use heightened caution.
AAA recommends a number of precautions, including this basic tip: Accelerate and decelerate slowly. Applying the gas slowly when accelerating is the best method for regaining traction and avoiding skids, AAA said, cautioning that it takes time to slow down for a stoplight as it takes longer to slow down on icy roads.
From Rear View Safety: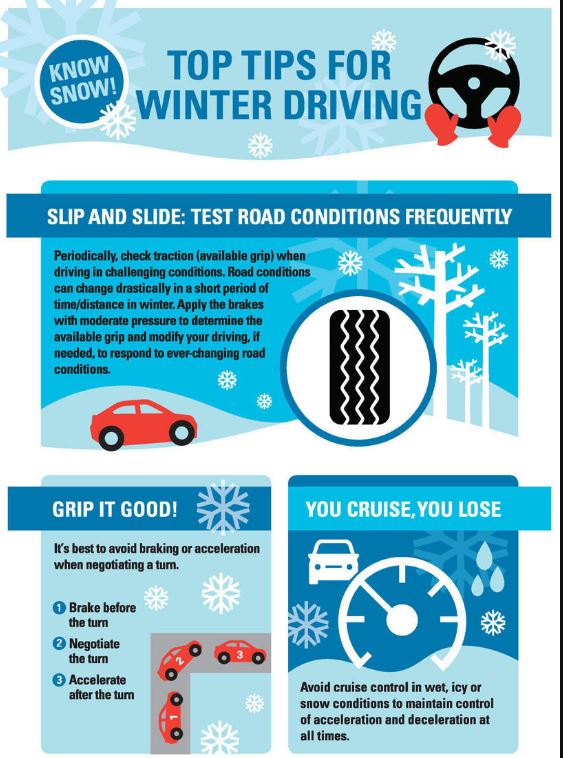 QBE notes that because any hazards are magnified with winter driving conditions, all distractions should be avoided. Check out these tips for safe driving and emergency measures.
QBE's tips for safe winter driving:
Avoid driving while fatigued. It's important to get the proper amount of rest before taking on winter weather driving to reduce risks.
Never run a vehicle in an enclosed area, such as a garage, even if it's just until it "warms up."
Make certain your tires are in good condition and properly inflated.
Keep your gas tank at least half full at all times and full if severe winter weather is possible.
If possible, avoid using the car's parking brake in cold, rainy or snowy weather.
Do not use your cruise control when driving on any slippery surface (wet, ice, sand).
Always look and steer in the direction you want to go to ensure safe travels and avoid possible hazards.
Use your seat belt every time you get into your vehicle.
Watch weather reports prior to a long-distance drive or before driving in isolated areas. Delay any trip when bad weather is expected. If you must travel, let others know your route, destination and estimated time of arrival.
Have regular vehicle inspections conducted to ensure you vehicle is in peak operating condition.
If you are snowbound:
Make sure you have appropriate phone numbers in your cell phone in case emergency phone calls are needed.
Stay with your vehicle. The car will provide temporary shelter and make it easier for rescuers to locate you.
Tie a brightly colored cloth to the antenna or place a cloth at the top of a rolled up window to signal distress.
At night, keep the dome light on if possible. It only uses a small amount of electricity and will make it easier for rescuers to find you.
Run the engine and heater just long enough to remove the chill to conserve gasoline.
Don't try to walk in a severe snow storm. It is easy to lose sight of your vehicle and become lost in blowing snow.
Don't over exert yourself if you try to push or dig your vehicle out of the snow.
Make sure the exhaust pipe isn't clogged with snow, ice or mud. A blocked exhaust could cause deadly carbon monoxide gas to leak into the passenger compartment with the engine running.