Cited for multiple violations, Tyson Foods was fined $263,498 by the U.S. Department of Labor Occupational Safety and Health Administration after an employee's finger was amputated in an unguarded conveyor belt, the DOL reported yesterday.
Inspectors found recessed drains and fire hazards resulting from improperly stored compressed gas cylinders, which exposed employees to slip-and-fall hazards due to a lack of proper drainage.
Established in 1935 and headquartered in Springdale, Arkansas, Tyson is the world's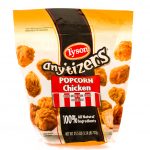 largest meat and poultry processing company, with more than $40 billion in annual sales. The company produces more than 68 million pounds of meat per week. OSHA gave Tyson 15 business days from receipt of its citations to comply, request an informal conference with OSHA's area director, or contest the citations and penalties before the independent Occupational Safety and Health Review Commission.
"Tyson Foods must do much more to prevent disfiguring injuries like this one from happening," Dr. David Michaels, assistant secretary of labor for Occupational Safety and Health, said in a statement. "As one of the nation's largest food suppliers, it should set an example for workplace safety rather than drawing multiple citations from OSHA for ongoing safety failures."
OSHA inspectors found more than a dozen serious violations, including:
Failing to ensure proper safety guards on moving machine parts
Allowing carbon dioxide levels above the permissible exposure limit
Failing to provide personal protective equipment
Exposing employees to an airborne concentration of carbon dioxide
Not training employees on hazards associated with peracetic acid and other chemicals.
OSHA also cited the company for repeated violations for not making sure employees used appropriate eye or face protection when exposed to eye or face hazards. The agency cited Tyson for a similar violation in a 2012 investigation at its Carthage facility. The company also failed to separate compressed gas cylinders of oxygen and acetylene while in storage – a violation for which OSHA cited the company in 2013 at its facility in Albertville, Alabama.
According to OSHA, the inspection falls under its Regional Emphasis Program for Poultry Processing Facilities.