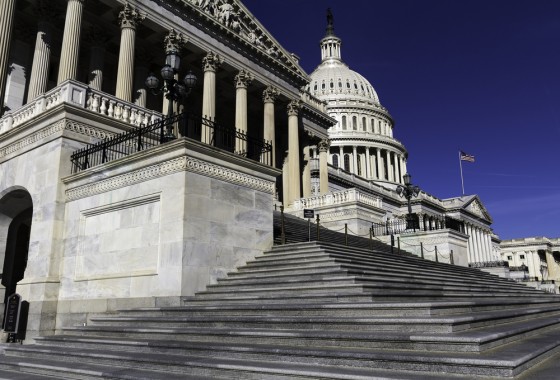 Recently, RIMS political action committee, RiskPAC, hosted a breakfast for Rep. Peter Welch (D-VT) in Washington, D.C. RIMS was represented by Terry Fleming, a member of the RiskPAC board of directors and by Jim McIntyre, RIMS Washington D.C. Counsel. Representatives of other groups were also in attendance.
Fleming, a former RIMS president in 2010, expressed gratitude to Rep. Welch for the meeting that lasted over an hour. "In all my years attending RIMS on the Hill, I met with a House or Senate member only once. Meeting face-to-face at a table with only four other attendees gave us the chance to express our views on our issues unburdened by interruptions. Rep. Welch showed keen interest in our issues and indicated that he would consider signing on as a sponsor of the bills that will come forward on our issues, as well as discussing the issues with other members of his committee." Rep. Welch is a member of the Committee on Energy and Commerce and has historically shown interest in the issues that RIMS supports – reauthorization of the Terrorism Risk Insurance legislation that is set to expire in 2014, and amending the Risk Retention Act to allow those groups to offer commercial property insurance coverage in addition to the current automobile and general liability coverage that they offer to their members.
This meeting is another example of the importance in having a political action committee in place. One of the reasons RiskPAC was created was to provide RIMS a seat at the table. Because of RIMS' contribution to Rep. Welch, Fleming was able to get critical one-on-one time with the Representative and his chief of staff to discuss issues of great importance to the organization and to the risk management community as a whole. This is access that would be nearly impossible to get without a PAC in place.
Similar Posts: