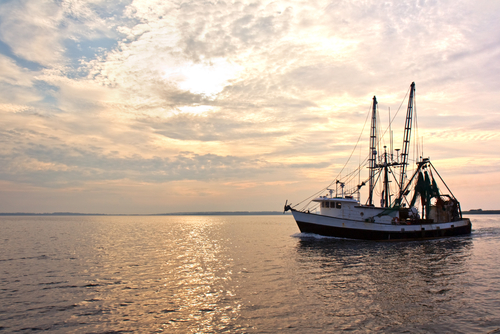 The thought of death or injury on the job doesn't usually cross the minds of many office-dwellers. We are the lucky ones. There are a slew of occupations that, without the help of any extraordinary circumstances, claim the lives of many workers each year.
Things have improved greatly over the past decades, however. In fact, since the Bureau of Labor Statistics (BLS) began tracking fatal occupational injuries 19 years ago, 2009 was the safest year on record with 4,551 fatal work injuries. In good news, 2010 was similarly less deadly with 4,547 fatal work injuries. But the fatality rate of some occupations still remain alarmingly high. Below are the 10 most dangerous jobs in America according to the most recent (2010) figures from the BLS and the fatal work injury rate (per 100,000 workers).
Fishermen (116.0) — In late June, two people died when a 20-foot fishing boat capsized near the top of Alaska's panhandle. A third person was able to climb on top of the overturned skiff where he waited for rescue. As the BLS states, "this occupation is characterized by strenuous work, long hours, seasonal employment, and some of the most hazardous conditions in the workforce."
Logging workers (91.9) — This occupation repeatedly takes a spot in the top 10 as not only one of America's, but the world's, most dangerous jobs. In one recent example, 61-year-old John Hutt, a Colorado logger, cut off his toes after he became trapped under heavy logging equipment. He then drove himself to an area where there was enough cellphone reception to call an ambulance. In the logging industry, he is considered one of the lucky ones.
Airplane pilots and flight engineers (70.6) — It may be hard to believe that working as a police officer is safer than flying a plane, but according to the BLS, this is true. The bureau states that there were 78 fatal work injuries for this industry in 2010.
Farmers and ranchers (41.4) — In August, a 40-year-old Illinois farmer was crushed to death by his tractor after it fell into a hole on his farm, which he was filling with dirt. And just this month a woman was hit and run over by a skid loader on a farm in Wisconsin. She was pronounced dead on the scene.
Mining machine operators (38.7) — The most infamous accident within this industry is undoubtedly the Upper Big Branch Mine explosion in April of 2010, which claimed the lives of 29 out of the 31 miners on site. The accident was the worst in the United States since 1970, when 38 minters were killed at Finley Coal Company's mines in Kentucky.
Roofers (32.4) — Just three weeks ago, four roofers in San Francisco were seriously injured when the roof of a six-story apartment complex collapsed under them. And in April, a 56-year-old worker was re-securing metal roof panels on a building at Horenberger Field at Illinois Wesleyan University when he fell from scaffolding. He died in the hospital eight days later and his employer, Union Roofing, was cited by OSHA for two safety violations.
Sanitation workers (29.8) — A tragic accident occurred on Labor Day when a 17-year-old sanitation employee fell off of a moving garbage truck and was run over, killing him instantly.
Truck drivers and delivery workers (21.8) — In March of last year, a commercial truck driver was using his cellphone to make a call when his truck crossed the median in central Kentucky, striking a van that was carrying 12 members of a family. 10 people in the van plus the truck driver were killed. Just this week, the U.S. National Transportation Safety Board, concluding its investigation of the crash, recommended banning the use of mobile phones by commercial drivers except in emergencies.
Industrial machine workers (20.3) — The number of accidents in this field is staggering. In January 2010, a Florida man had his genitals severed off after an accident involving machinery at an Future Foam Carpet Cushion in Orlando. The company was was fined $42,500 by OSHA for 10 serious safety violations.
Police officers (18.0) — In 2010, there was a nearly 40% increase in line-of-duty deaths among U.S. law enforcement. The most recent officer death involved Deputy Sheriff Derrick Whittle of the Union County, Georgia, Sheriff's Office. He was killed in an automobile accident while responding to a call on September 18th. He is the 48th law enforcement officer to be killed in a traffic-related incident in 2011.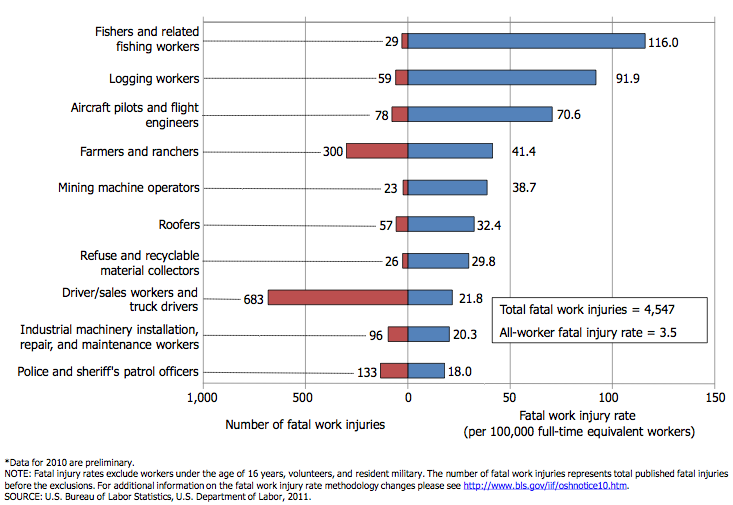 Similar Posts: