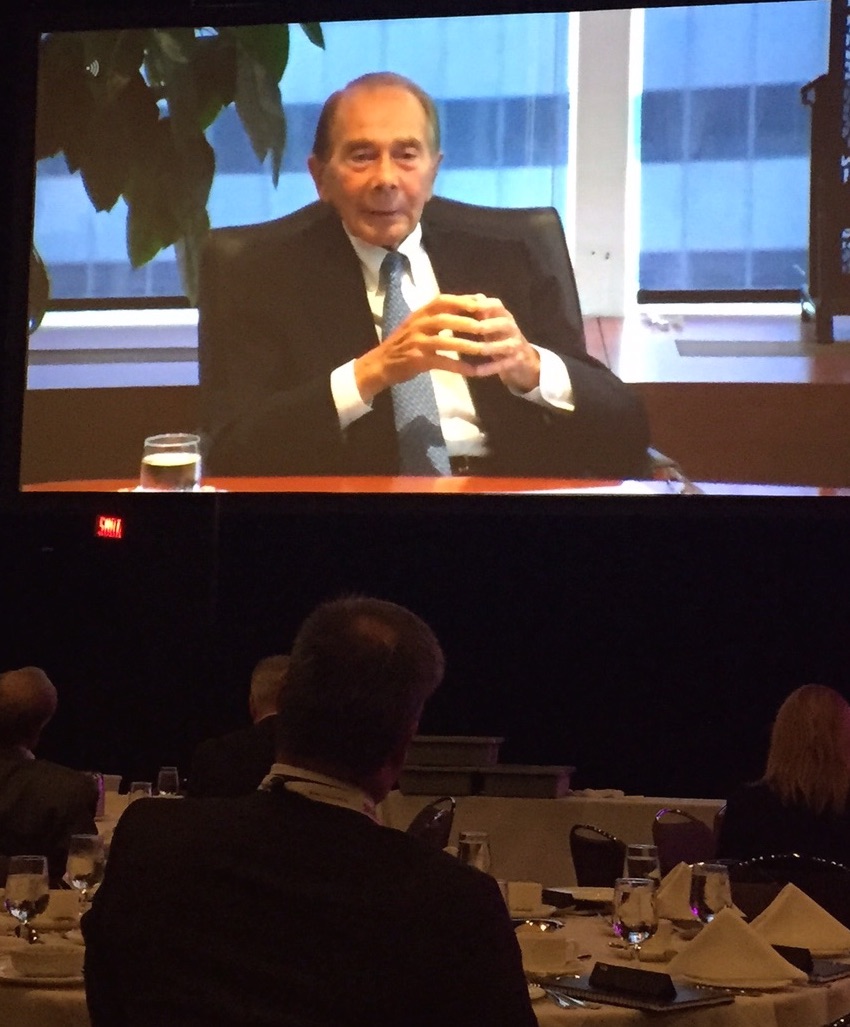 QUEBEC CITY, CANADA—Currently on the mend from Legionnaires' disease, Maurice "Hank" Greenberg appeared via live video stream to deliver the keynote address to the 2015 RIMS Canada Conference. The chairman and CEO of the Starr Companies and former chairman and CEO of AIG gave a frank and diverse address highlighting a number of concerns about potential impacts to the insurance industry due to the current climate.
"We're living in a very troubled time on a global basis," he said, emphasizing geopolitical instability. While such geopolitical uncertainty demonstrates the need for political insurance, other widespread conditions do not necessarily have such favorable implications for the industry.
"Clearly commercial insurance rates are under pressure," he said. "The absence of catastrophes has masked that rates have gone down so much, and that has allowed some companies to survive."
He also noted that investment income is suffering because of interest rates, and expressed concern that many companies are turning to long-tail reserves for income. What's more, he said, accident year results for many companies are turning negative, and many are finding their reserves inadequate, particularly as expense ratios are frequently increasing rather than remaining steady. Companies that aren't very efficient will find it very hard to be competitive and show returns this year, he cautioned.
Further examining the industry, Greenberg criticized insurers for "not doing a very good job of training underwriters," seeing a stark comparison to the rigorous, diverse experience previously customary in the London market, for example.
"It takes years of experience to train an underwriter—they are not just qualified because of a college degree," he said. "It takes years of work and a lot of common sense to develop the wisdom to know what can be underwritten and at what price."
When it comes to this talent concern, he noted, it is not a question of which companies are doing better, but a problem across the board. "I don't think we have the discipline, as an industry, to do the job properly," Greenberg said.
Greenberg also shared some of his political opinions, both international and domestic. Of China, the US-ASEAN Business Council chairman emeritus and vice chairman of the Council on Foreign Relations said he does not share the widespread dubious feelings on China. "They've had some missteps. What country hasn't?" he said.
He spent some of his time addressing the burgeoning 2016 U.S. election. Greenberg noted Donald Trump's campaign as part of what he views as growing dissatisfaction – and perhaps inadequacy – of the current political system. "People are fed up with the political system as it currently exists. Why else would somebody like Trump, who has no experience but is speaking about things people care about be doing so well?" he said.
He also told the crowd that Jeb Bush would personally be visiting him Wednesday. Greenberg does not yet endorse any particular candidate, however, and expressed some concern about the Republican party's position amid acute socioeconomic changes and resulting political demands nationwide.
"You have to give people the opportunity to succeed—that's the American Dream. That's why people came here," he said. "If we're going to deny that opportunity, the Republican party will have to change its name."