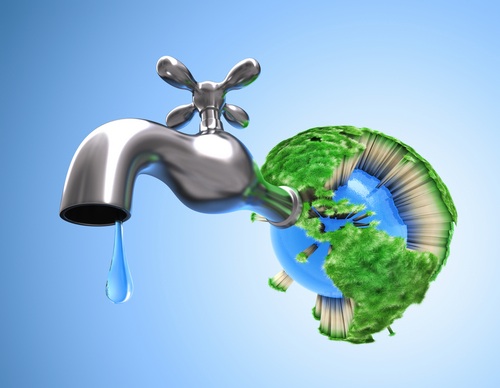 Despite recent scrutiny of some large corporations that rely heavily on water resources, it seems many companies are still falling short in managing and disclosing water scarcity risks. That's according to a recent report issued by the Ceres investor coalition, the financial services firm UBS and financial data provider Bloomberg.
The report evaluates and ranks water disclosure practices of 100 publicly traded companies in eight key sectors exposed to water-related risks. The report shows that many companies are not including material water risks and performance data in their financial filings, nor are they providing local-level water data, particularly in the context of facilities in water-stressed regions. Moreover, none of the 100 companies are providing comprehensive water data on their supply chains, an especially glaring omission given that the vast majority of many corporations' water footprint is in the supply chain.
The report uses a scoring scale of 0 to 100 with the three highest scoring companies being UK beverage company Diageo, Swiss mining company Xstrata and U.S. electric power company Pinnacle West (owner of Arizona Public Service).
"Most companies provide basic disclosure on overall water use and water scarcity concerns, but their focus and attention so far is not nearly at the level needed given the enormity of this growing global challenge," said Mindy S. Lubber, president of Ceres. "Our global economy runs on water and in many parts of the world this finite resource is under threat. Companies must do more to disclose their potential exposure from this issue and their strategies for responding."
The report assesses companies in eight different sectors: beverage, chemicals, electric power, food, homebuilding, mining, oil and gas and semiconductors. The report found the following:
The mining sector scored highest overall, followed by the beverage industry. Companies in the homebuilding sector had the lowest overall scores.
Only 21 companies disclose targets to reduce water use, and even fewer — just 15 companies — had goals to reduce wastewater discharge.
Only 17 companies report local-level water data and only a handful provide the information in the context of operations in water stressed regions.
The findings in this report do not bode well for companies with the highest scores. Investors have been increasingly critical of companies that do not disclose environmental, social and governance risks they may face. It is nice to see that this report offers a bit of guidance for those companies wanting to be more transparent with such risks. It recommends companies:
include material water risk factors and performance data in their financial filings;
provide water performance data broken down to the facility level for operations in water-stressed regions;
outline actions and policies for assessing and managing water risks, including quantified targets for reducing wastewater and water use;
disclose how they are collaborating with stakeholders and suppliers on water risks, including setting performance goals for key supply chains;
outline specific strategies for developing water-related products with strong market potential in a water-constrained world.
For more about water scarcity, check out the cover story we ran in our June 2009 issue. And please, let us know how your company is managing water scarcity risks.
Similar Posts: