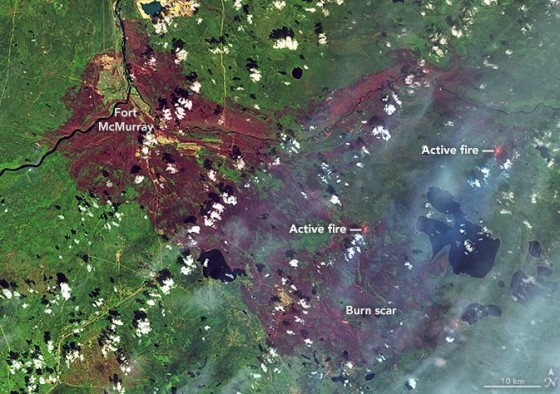 NASA Fort McMurray wildfire map
Insured loss estimates from the wildfire in Fort McMurray, Alberta, Canada, are projected between $3.4 billion and $6.9 billion, catastrophe modeling firm AIR Worldwide reported. Officials are still in the early stages of assessing damage caused by the wildfire that began on May 1 and quickly spread from forests to neighborhoods, outpacing local firefighters' capacity to contain it. According to AIR, the Fort McMurray wildfire is the costliest natural disaster in Canada's history.
The fire had initially moved away from Fort McMurray, but shifted back toward the city this week, causing evacuations for the second time. About 500 to 600 people were evacuated from four small work camps, Alberta Premier Rachel Notley said in a news conference on Monday.
The fire is still uncontained and, as of May 14, had covered nearly 600,000 acres, mainly in wildlands and away from population centers. Winds are now calmer and temperatures have lowered, with considerable cloud cover and a possible shower expected—all of which are expected to help firefighting efforts.
The fire's new threat reversed earlier efforts to return local oil sands projects to full operation, the New York Times reported. The highway through Fort McMurray was reopened several days ago to allow workers to return to the work sites, but was closed again on Monday.
Premier Notley said that five things need to be in place before residents may reenter Fort McMurray:
Wildfire is no longer an imminent threat to the community
Critical infrastructure is repaired to provide basic services
Essential services, such as fire, EMS, police and health care are restored to a basic level
Hazardous areas are secure—100 truckloads of fencing are being sent to Fort McMurray
Local government is re-established
Firefighting crews are still trying to put out fires in the northern part of the city. Fort McMurray's airport, water treatment plant, municipal building, hospital and all functioning schools were safeguarded, according to AIR. The airport continues to be used only for wildfire aircraft operations, however, and is closed to commercial and private aircraft until further notice. Current information suggests that a total of more than 2,400 structures have been lost—roughly 10% of the total number.
AIR said its loss estimates capture residential, commercial and automobile losses, as well as business interruption losses, except those related to the oil industry. AIR derived its loss estimates based on high-resolution Industry Exposure Database (IED) for Canada and damage ratios estimated from satellite imagery and experience from claims adjustments for historical U.S. wildfires. IED exposure values included in loss estimates have been trended to Jan. 1, 2016.
The wildfires in Canada illustrate a continuing trend of increasingly severe wildfires that caused a record 10.1 million acres to be burned in the United States in 2015, surpassing the previous high of 9.8 million acres in 2006, Mark Crawford reported in last month's issue of Risk Management. It was the fourth year in the past decade in which more than nine million acres burned. According to the U.S. Forest Service, the 2015 wildfire season was the costliest on record, with more than $2 billion spent fighting fires.
Similar Posts: