Organizations with a safety policy in place for drivers of company vehicles may believe they are protected from liability in case of an accident. What they may not realize, however, is their defense could hinge on documentation of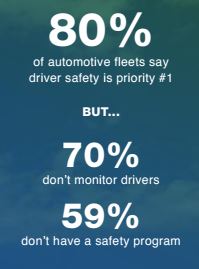 steps they have taken to ensure that the policy is being followed by employees, according to the study, Creating a Safety Culture: Moving from politics to habits, by SambaSafety.
The study found that, regardless of the policy in place, "simply saying that you didn't know about poor driving behavior will no longer cut it – not when people's lives and companies' well-being are at stake. With the data readily available today, the courts are sure to ask how you didn't know."
To implement a successful program, it is important for employees to understand that the company's policies must be followed by employees at all levels. "If someone in senior management breaks the rules and suffers no aftereffect, what's the motivation for others to keep things in line?" the study asks.
Additionally, safety policies are not limited to employees whose primary responsibility is driving, or to those who drive company-owned or leased vehicles. According to the study:
Employee-owned or rented vehicles that are used for work-related journeys also must be part of the equation. To decrease liability (in addition to improving safety), policies should clearly state this fact and affirm that the same safe behavior is expected of every driver in the organization – on and off the job. That behavior might include non-distracted driving, for example, or even properly maintaining a personal vehicle used for company business to ensure safety and a positive refection of the organization.
Employees need to know that their employer can be held responsible for anything that happens while employees are conducting company business. Organizations also need to see that reimbursed drivers have adequate insurance, as well as administering signed driver agreements, providing uniform driver training – and ensuring that all drivers' behavior and records are continuously monitored.


To move into a safety culture, SambaSafety advises organizations to keep their program in line with company principles, values and brand. Also important is working with the company's existing culture:
Employees in a high-energy, competitive environment, for example, may enjoy contests between regions vying for the safest driving records. In a top-down culture, on the other hand, employees might respond best to regular tips and reminders from respected senior leaders.
In any case, clear communication can keep drivers from feeling micromanaged or worrying about their privacy and personal information. It can also mean fewer accidents and a higher level of safety for employees.
Similar Posts: