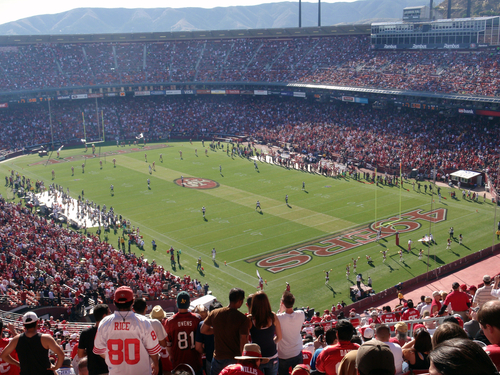 As the Super Bowl gets under way Sunday in New Orleans, event organizers will be working feverishly behind the scenes, making certain that all aspects of the game go off without a hitch. From plans that focus on the potential for severe weather to controlling alcohol intake by fans to ensuring the halftime show goes on, organizers and insurers are working around the clock leading up to, during and immediately after the game. I contacted Chris Rogers, director of risk control at Aon Risk Solutions and Lori Shaw, sports and leisure practice leader for Aon Risk Solutions to get their take on the risks and how they are handled.
RM: New Orleans is known for its party atmosphere. How will event organizers protect employees, fans, vendors and facilities from crime and unruly visitors?
Chris Rogers: Event organizers will work closely with local law enforcement personnel and emergency response personnel to assess any risks to employees, fans, vendors or the facilities. A threat assessment will be completed and preparations made and put into place that serve to mitigate or eliminate those threats. The NFL and team owners have made a commitment to providing a safe and secure venue for everyone's enjoyment. They have also worked closely with organizations, such as [Techniques for Effective Alcohol Management] T.E.A.M. Coalition, to promote the responsible use of alcohol and have provided VIP tickets for the winners of designated driver contests held throughout the season. Event organizers have received outlines and guidelines relating to security matters that are intended to be shared with their personnel and event attendees that provide additional support for those events during this time.
RM: What types of insurance needs to be in place to protect event organizers from myriad of possible risks?
Lori Shaw: Event organizers need to consider not only the traditional lines of insurance purchased by a business enterprise, such as general liability, property, workers compensation and auto, but also specialty coverages designed to protect event-specific activities, such as athletic participant legal liability, volunteer and participant accident, liquor liability, directors and officers, coverage for pyrotechnics, third-party property damage, terrorism (and threat of terrorism) and event cancellation, including adverse weather, communicable disease and non-appearance of essential performers/players/entertainers.
RM: How do event organizers navigate advertising and sponsorship exposures?  
Shaw: For large events, the advertising risk is usually carried by the broadcaster. The risk of broadcast interruption could be passed to the event organizer, and if that is the case, the event organizer would look to secure broadcast interruption insurance.
RM: What happens in the case of extreme weather, such as an off-season hurricane or rare Louisiana snowstorm?
Rogers: The NFL and other sporting organizations have developed plans over the years to address the additional and unique challenges posed by extreme weather. These plans have been developed in conjunction with public and private weather services to ensure that the best information is available to event organizers so that they can respond properly and in a timely manner. These plans are further augmented by the development of emergency contingency plans that address what will be done if the weather affects the game, either just prior to the beginning, or even during the game. If something occurs during the game, the stadium's "shelter-in-place" plan would have to be activated.
RM: What if the half-time headlining act cannot go on? Are event organizers prepared with a backup plan?
Rogers: A backup plan will greatly depend upon when it becomes apparent that the headliner cannot go on. If it is a few days before the event, a substitute act could possibly be arranged. If the change is something that is sudden and occurs just before halftime, it will mostly depend upon who is involved and what might be an alternative. Perhaps the rest of the pageantry can be expanded or they could cut to the broadcaster's booth for additional commentary on the game.
Similar Posts: