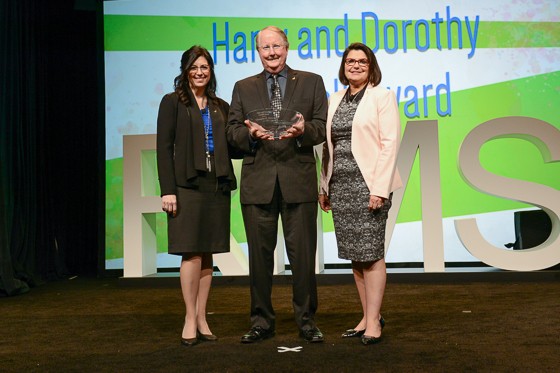 SAN DIEGO—During today's RIMS 2016 Annual Conference & Exhibition Awards Luncheon, RIMS doled out its highest honors to several prominent members of the risk management industry.
The risk management society presented Christopher E. Mandel, senior vice president of strategic solutions at Sedgwick Claims Management, Inc., with its top honor, the Harry and Dorothy Goodell Award for outstanding service and achievement to the risk management discipline.
"The risk management community is filled with exceptional professionals but few have had the remarkable career achievements and broad industry impact as Chris Mandel," said RIMS CEO Mary Roth. "To this day, Chris continues to give back to the profession through his involvement with RIMS and at Sedgwick. He is a wonderful example of the best this profession has to offer and it is our honor to present him with RIMS' highest award."
Mandel served as 2002 RIMS president, and has fulfilled 19 distinct roles for the society and delivered dozens of workshops for other risk professionals since becoming a RIMS workshop instructor 2010, with particular emphasis on enterprise risk management and strategic risk management.
This year's Risk Management Hall of Fame inductees are David Mikulina and William H. (Bill) McGannon. Mikulina headed the risk management department at Hyatt Hotels Corporation for 23 years before his retirement in 2007, and still enjoys sharing his insights with rising and veteran risk management professionals alike as a longstanding RIMS member. McGannon was one of the first Canadian risk managers to establish a full-service risk management department that included loss prevention and statistical support at NOVA Chemical Corporation in Alberta. After his retirement in 1998, he frequently lectured at the University of Calgary and traveled to Scotland to participate in the Risk Manager in Residence program. While McGannon passed away in 2015, his legacy in the risk community lives on, particularly through the William H. McGannon Foundation, which provides scholarships, research grants and student involvement initiatives to advance risk management by way of education, research, mentorship and work experience programs.
"Although the risk management profession has evolved significantly, the achievements of its early pioneers continue to have lasting influence on the processes and strategies used today," said RIMS Chief Executive Officer Mary Roth. "Whether it was enhancing their organization's already complex risk program or devoting themselves to supporting the promising careers of future risk management leaders, this year's Risk Management Hall of Fame inductees have unquestionably made substantial contributions to the profession and RIMS."
"We are pleased to recognize Bill and Dave for significant achievement in their professional careers and their contributions to shaping the risk management discipline," said Rob Schimek, CEO of AIG Commercial.
RIMS and Business Insurance presented Gus Fuldner, head of insurance for Uber Technologies, with the 2016 Risk Manager of the Year Award.
In recognition for her outstanding performance in furthering risk management with the RIMS Memphis Chapter, Sedgewick Senior Vice President of Risk Management Robin Joines received the Ron Judd "Heart of RIMS" Award.
RIMS also announced its first inductees into the RIMS Ambassador Group, which recognizes individuals for their continued service with the organization. Darius Delon, South Alberta Chapter member and associate vice president of risk services at Mount Royal Univeristy, and Daniel McGarvey, Western Carolina Chapter member and managing director at Marsh, both recived this award for going above and beyond to help strengthen and support the society's strategic initiatives.
The RIMS Rising Star Award was presented to Alumine Bellone, director of risk and insurance for Broward Health, and Kathleen Crowe, account specialist II for Aon Risk Solutions were honored for demonstrating exceptional initiative, volunteerism, professional development, achievement, and leadership potential.
David Engel, director of risk management for AT&T, received the Cristy Award, presented to the individual with the highest marks on the three exams required to earn the Associate of Risk Management designation.
Similar Posts: