Rate adjustments for property and casualty insurance in the United States for fourth quarter 2017 were plus 2% compared to plus 1% in the third quarter of 2017, with automobile and transportation seeing the largest increases, MarketScout reported.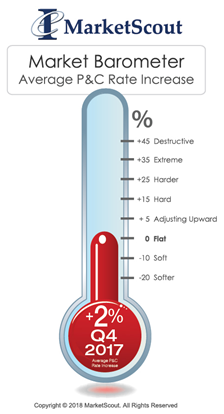 Richard Kerr, MarketScout CEO commented that insurers were prepared for their losses. "Underwriters are rarely surprised by aggregate losses because they have so many pricing and modeling tools. Most insurers are assessing rate increases at a moderate pace. Automobile and transportation accounts incurred the largest rate increases at plus 5% over prior year pricing."
In the reinsurance sector, William Hawkins, director of European insurance research at KBW made a similar observation of P&C Jan. 1, 2018 renewal pricing, stating in a podcast that, "the big four European reinsurers will have achieved 2% rate increases this [renewal] season." He added that "the message from Monte Carlo, that the 2H 2017 natural catastrophes should draw a line under rate cuts across the board, has been delivered. But we think the upside for property catastrophe has been capped by the ongoing plentiful supply of capital."
By coverage classification, MarketScount noted that all coverages except D&O, professional liability and auto had rate increases from the third quarter of 2017 to fourth quarter 2017. Property increased the most, from plus 1% to plus 3%.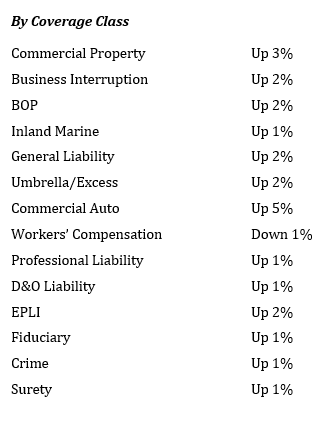 On average, underwriters assessed rate increases for all industry groups except transportation and public entities. "Keep in mind, rates are calculated on a composite basis and represent exposures from businesses across the U.S. Insureds in catastrophe exposed areas incurred higher rates/premiums," Kerr said.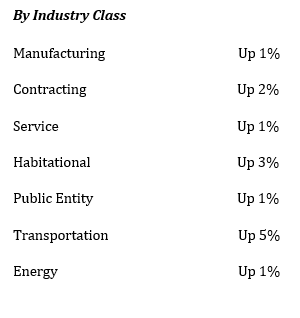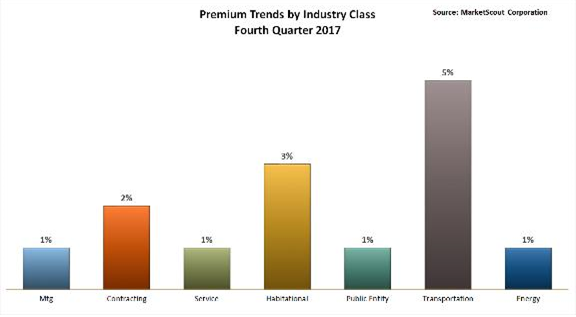 MarketScout also noted that large accounts were seeing increases averaging 1%, while others saw 2% increases.