Egyptian authorities believe they have found debris from EgyptAir Flight MS 804, but the search remains on for the wreckage of the Airbus A320 traveling from Paris to Cairo that vanished from the radar and crashed into the Mediterranean early this morning.
According to the Greece's defense minister, Greek controllers attempted to contact the aircraft when it crossed through the country's airspace but could not get a response. The plane made "sudden swerves" before dropping from 37,000 to 15,000 feet and disappearing from radar. The small commercial jet was about half full, carrying 66 passengers from a range of nations, including 30 from Egypt, 15 from France, two Iraqis, and one person each from Britain, Belgium, Kuwait, Saudi Arabia, Sudan, Chad, Portugal, Algeria and Canada.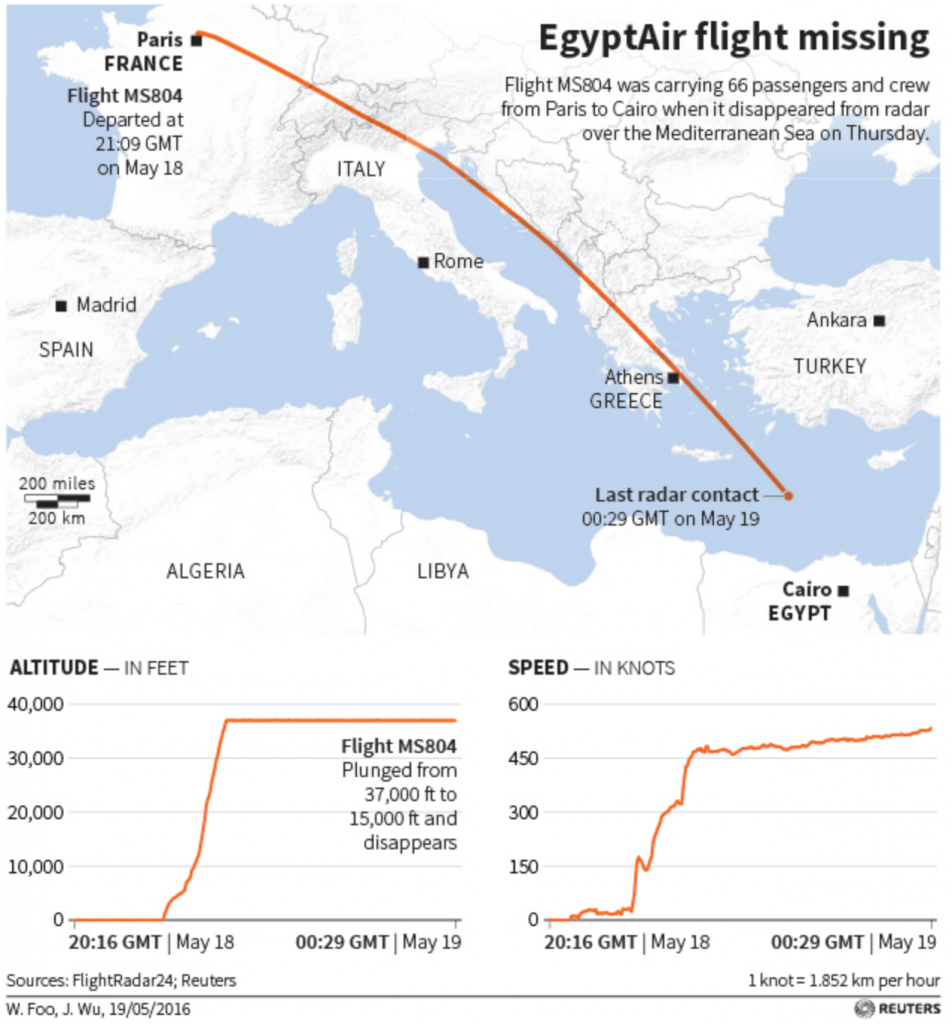 No cause has been officially identified, but many security analysts and government officials believe that an act of terrorism may have downed the plane. There were no documented red flags before the plane disappeared: local weather was good, the plane was on its fifth flight of the day, the pilot and copilot had logged a significant amount of flying experience, and Greek aviation officials said the pilots did not mention any issues.
According to Reuters, Egyptian Prime Minister Sherif Ismail said it was too early to rule out any possible explanation, and French President Francois Hollande told reporters, "No hypothesis can be ruled out, nor can any be favored over another." Egypt's civil aviation minister said a terrorist attack was more likely than a technical failure, however. Two U.S. officials told CNN that the government is operating on an initial theory the flight was taken down by a bomb, but cautioned this is not yet supported by a "smoking gun." No terrorist groups have yet claimed responsibility for the crash.
Egypt has been the victim of terrorism in the skies relatively recently. Last October, a Metrojet charter plane filled with Russian tourists crashed into the Sinai Desert shortly after taking off from the Egyptian Red Sea resort of Sharm el-Sheikh, headed to St. Petersburg, Russia. All 224 passengers died in the crash. Investigators quickly speculated that a home-made bomb had been placed aboard the aircraft and in February the Islamic State, or ISIS, claimed responsibility, saying that it had indeed smuggled an explosive device aboard the aircraft.

In March, a passenger aboard an EgyptAir plane flying from Alexandria to Cairo hijacked the plane wearing a fake suicide belt, an incident that raised deep concerns among aviation authorities about the anti-terrorist measures in place on EgyptAir flights, and at Egyptian airports.
Beyond the region, a number of high-profile losses have hit the aviation industry as a whole over the past two years, including the disappearance of Malaysia Airlines flight MH370 and the crash of MH17, a Boeing 777 shot down over Ukraine. As we reported at the time, however, crashes actually continue to decrease. While the insured losses from a plane crash can be significant, the capacity in the aviation insurance market has continued to keep rates stable and relatively low.
In the terrorism insurance market, recent losses have also not yet borne out a concrete impact on rates or capacity. While some European markets have recently reduced their underwriting appetite, terrorism coverage has primarily broadened, with significant capacity and rates that remain relatively low.
As Business Insurance recently reported, the terror attacks in Paris and Brussels have prompted an increase in the take-up rate for event coverage to add to buyers' terrorism insurance programs. Tim Davies, head of sabotage and terrorism at London specialty insurer Sompo Canopius, told the magazine that many buyers have been adding liability and event cancellation coverage, prompted by the continued relatively low rates. Despite the spike in attacks in Europe, Richard Sawyer, director and head of North American terrorism at Aon Risk Solutions, told AM Best last week that rates for terror coverage should remain relatively stable unless the frequency of attacks escalates.