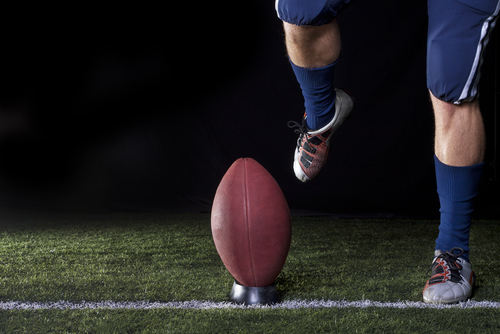 Tom Tupa was an NFL punter from 1988 to 2005. His 17-season career with seven teams ended abruptly on August 19, 2005 during a warm-ups for a preseason game. Tupa punted a ball and immediately fell to the ground complaining of back pain. It was the last time he stepped foot on the field as an NFL player.
Football is inherently a violent sport; a game wrought with injuries. Players know this and because of the nature of the game, they are very rarely awarded workers compensation benefits. Tupa, as it was recently proved, is an exception.
Yesterday, Maryland's high court rejected the idea that football injuries should not be considered accidental because of the rough nature of the sport.
Tupa's injury happened "out of and in the course of (his) employment," the Maryland Court of Appeals said in its 16-page opinion.

"He was warming up for a game when he landed awkwardly and thereafter sought immediate medical treatment," Judge John Eldridge wrote in the opinion. "Ample evidence was presented to show that Tupa suffered a compensable accidental injury during the course of his employment."

The team and insurers argued that Tupa's injury was not an accidental personal injury within the meaning of Maryland's workers' compensation law. The court rejected that argument.
Just two weeks ago it was another story with a another player, however.
Bruce Matthews played for the NFL with several teams for 19 years before retiring from the sport in 2002. In 2008 he filed a workers comp claim in California, stating that he was injured in various locations throughout the state during his career, but failed to specify which injuries occurred in California.
But the state court wasn't having it.
"He did not allege any specific injury in California or a need for medical services in California," the ruling reads. "Matthews likewise did not allege in his complaint before the district court that he suffered any discrete injury in California. Nor has he directed us to anything in the record indicating that he tried to prove injury in California, or any burden on the state's resources."

The court noted that employees cannot bargain away state minimum labor standards in arbitration or collective bargaining agreements. But it said that argument does not apply in Matthews' case, because he did not prove that he has a claim under California workers' comp law.
In addition to potentially increasing workers comp claims, the NFL also has the issue of lawsuits stemming from player concussions. A fight is currently underway between the league and insurers over who will pay to defend the NFL against lawsuits involving more than 2,400 former players.
The NFL remains in hot water and seems to be hemorrhaging money on legal services. Will the sport become a safer one? Will the league eventually run out of funds. Both are highly unlikely.
Or are they?
Similar Posts: